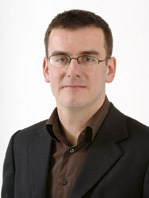 The Club World Cup kicks off this week in Japan, though it will pass most people by.
The competition is a curious beast. FIFA would love to develop it as a serious contender to UEFA's Champions League, whose revenues and worldwide TV coverage must make Sepp Blatter green with envy. But the current format of the Club World Cup makes such an ambition unobtainable.
Shoehorning the competition into the second week of December, the only available gap in the international calendar, means it has never been taken seriously by European audiences. And playing the games in Japan means that even those Europeans that are interested have to rise at the crack of dawn to watch.
In contrast, South Americans view the Club World Cup as the highlight of their year. For them, the addition of teams from Asia, Africa, Central America and Oceania has only added to the status of the competition.
I've just been discussing the tournament on Fast Track, the BBC World Service's African sports show. The phone and text reaction from listeners was solidly in favour of the competition, particularly as this year's African contenders, Al Ahly of Egypt, have a realistic chance of beating Mexico's Pachuca and South American champions LDU Quito. If they do, they will in all probability face Manchester United, who will have to play either Waitakere United, Adelaide United or Gamba Osaka in their semi-final.
Financially, the competition makes great sense to all the participants, including the European champions. This year FIFA has put up a total of £11million in prize money. The winners will get £3.4million and even the weakest team will receive £340,000. That's serious cash even for Man United, who normally won't get out of bed if a friendly earns them less that £1million
The presence of Oceania champions Waitakere United, the part-timers from New Zealand, is proof of the mismatched nature of the competition. Last year, Waitakere were soundly beaten by Iran's Sepahan in their opening game. Nobody expects them to perform any better this time around.
Next year, the competition switches to Abu Dhabi in the United Arab Emirates for two years. The move will allow for more Europe-friendly kick-off times, but the Club World Cup will need a much greater overhaul to be taken seriously in Europe.