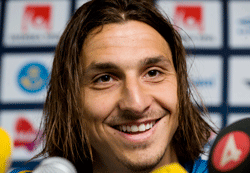 World Soccer: What are the main differences you've noticed between the Italian and Spanish leagues?
Zlatan Ibrahimovic: There are big differences. In Spain the play is more offensive; in Italy, they put more emphasis on tactics. In Italy not conceding goals is very important. If you score one, it's game over. Here you can score three or four goals a game, it's different. It's not that in Spain they don't like tactics, but in Italy they have a special role. That said, at Barcelona we
do a lot of tactical work thanks to the coach, and our tactics always change depending on who we play.
That's a little surprising, as Barcelona always seem to play the same way.
It's little details that change, maybe it's not so noticeable, but there are always changes.
How hard was it for you to adapt? You got off to a flying start, scoring goals, but then they seemed to dry up…
At the beginning I scored several goals, yes. I was a new member of a team already in form, but I wasn't playing like I can. Right now I'm not in my best shape, but I work every day to get there, to master Barcelona's way of playing, to learn more about how to play in the Spanish league. There are still things I have to learn on that front.
More generally, what parts of your game do you think you need to improve?
Everybody says to me: "If you score, that's already enough." But I'm not like that, I
don't get any satisfaction that way. I want to use all my qualities. Football is not just about scoring goals. I believe it's much more than that.
It has been suggested that you're a better fit for Barcelona than Samuel Eto'o, precisely because you're not just about the goals, and they wanted something different.
Definitely! When I look at Eto'o, I don't see the same kind of player as me. He's more about scoring and I'm, let's say, more about the whole game. He's a fantastic attacker, with a great goal ratio, and I'm glad to see him doing so well at Inter.
How would you describe your relationship with Jose Mourinho at Inter?
(Long pause) He's…very organised. He demands everything from his players, but I never had many problems with him. Sometimes we had the odd disagreement, but that's normal between a coach and a player. Mourinho's personality has helped him win a lot of titles. He's a winner.
At Inter, the team was set up around you. At Barca, you have players like Xavi and Iniesta pulling the strings, and Messi up front, so you're no longer the key piece in the puzzle. How do you feel about that?
Yes, what you say is true, but I expected it to be different because here we have many players who are brilliant on the ball. At Inter it wasn't like that, although they also have some great players. Comparisons aren't that helpful and both teams are very successful. But I have to admit that it's easier to play with players like Barcelona's – with Xavi, Iniesta, Leo, Henry – because if they're on form, they help me a lot. When the play is divided between many players, it's easier than when it's focused on one or two individuals, as was the case at Inter.
Given that Barca have so many stars, do you feel under the same pressure as you did at Inter?
Yes, you must win here, just as at Inter. The pressure will always be there.
You've already scored the winner in a Barcelona-Real Madrid clasico. How does that compare to scoring in the Milan derby?
Any time you score a goal it's a special feeling. What changes is the atmosphere.
The game against Real Madrid was fantastic.
It was, as they say here "the classic of the year" because both teams are playing for the league title every time they face each other. The derby atmosphere is amazing and when you score everything explodes. And you know the whole country is watching the match. We still have to go to Madrid so I am looking forward to more of the same.
More generally, how does the rivalry between Barcelona and Real Madrid compare to one between Inter and Milan?
The climate in the build-up is similar because the game is the only thing people speak about for a week before. As for the games, both are characterised by permanent waves of attacking and defending. It's end to end, and a terrific intensity in every move.
Barca made a big thing of presenting you to their fans at Camp Nou. What was that like?
It was an amazing thing. I can't explain it with words because you'd need to be me to understand what it was like. It was a once in a lifetime kind of experience – I had a lot of fun. I was a little nervous because I didn't know how many people were waiting for me when I was about to go out on to the pitch. But when I did and saw that the stadium was full, the feeling of joy was like what a child feels when he is given a brand new toy.
What have been the high and low points at Barcelona so far?
The best thing has been the chance to play at Camp Nou and show the world that I can play for this Barcelona side. The low points have been any time I've played badly. It's not that everybody else criticises me, but I see it for myself. I'm a very realistic guy and when
I don't play well, I'm the first to admit it.
So, you can score a goal, finish on the winning side and still not feel happy because you feel you've not played well?
That happens often. The priority for me, much more than scoring, is to play well.
If you have a bad game, do you talk about it with family or friends?
A little, but in general I keep it to myself.
You've had a few months playing with Messi now. What do you make of him? Are the comparisons with the likes of Diego Maradona, Pele and Alfredo Di Stefano justified?
I don't like those comparisons. Too often people say that it was easier to play in Pele's time, but it's not like that. You can only compare players who have played in the same period. Leo has achieved everything and he's only 22. He's been lucky to always have great players as team-mates at Barcelona. Ronaldinho helped him so much, and now his current team-mates. It's a great advantage to have top players around you and not many players have the good fortune to play for the champions. But Leo is doing a great job and I hope he keeps it up because, usually, when you win everything so young, you start to take it easy, but he seems motivated and always looks forward to winning more.
What has Messi got technically that makes him stand out so much?
He's got everything – both individually and in his team game. The team helps him and he helps the team. You can tell he feels very comfortable. He's been at Barcelona for a decade and it shows.