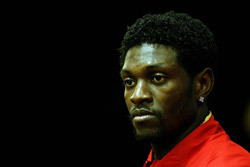 A perfect start for all four English sides, as Chelsea, Liverpool, Man Utd and Arsenalwin their opening games. Latest Outright Bettinghere.
Emmanuel Adebayor has defended the actions that saw him face two FA charges for his conduct against former club Arsenal.
Adebayor was handed a three-match ban for a stamp on Robin Van Persie and is waiting the results of an improper conduct charge after running the length of the pitch to celebrate in front of the Arsenal fans following his goal in City's 4-2 win last weekend.
"People talk about us as being football players and the money we earn, but just because we are fortunate it does not mean we need to take abuse," he told The Sun.
"If you were to abuse a man in the street for over an hour he would react and it would be a worse reaction than a goal celebration! There is only so much abuse a man can take until he reaches breaking point.
"I was being abused by people who six months ago were singing my name and the abuse was for no reason. I scored and I wanted to show people it is not a good idea to abuse me. I really didn't understand it at all. They were clapping Kolo but they were shouting personal abuse at me before the match even kicked off."
Arsenal fans turned against Adebayor towards the end of his time at the club and the Togo striker claims that during Saturday's game the chants were aimed at his family.
"I was running on pure emotion and when you take emotion out of football we are going to have a big problem," he said. "People say I had time to think because I ran the length of the pitch but that is not true. I was abused all match and scored a goal I knew would win the game for us. Ten seconds is nothing. Your emotion is going to last a lot longer than that."
Adebayor criticised the Arsenal fans for their reaction following his celebration, after a steward was knocked unconscious by a flying object thrown by a visiting supporter.
He said: "I know a steward got hurt and I really do want to say sorry for that because he didn't ask for any of this – he was just a man doing his job. Emotions were running high for me and it is obvious they were for Arsenal fans as well.
"They had just seen me score the goal that meant they had lost the game and that was very hard for them to take. The steward was just doing his job but if things hadn't been thrown and people had stayed in their seats then that wouldn't have happened. Players should feel like they can celebrate a goal without the fear of being hit by things.
"I think, in terms of class on the pitch, we have overtaken Arsenal and that was a reason for some of the hostility."
Adebayor has been banned for three games for stamping on Robin Van Persie's face in the game, but despite admitting the charge he insists it was accidental.
"I am sorry Robin got hurt but I can't regret something I did not mean to do," he said. "Anybody who knows me knows I would not set out to hurt anybody and I would especially not mean to hurt an old team-mate. I really am glad Robin was OK because I know my stud was close to his eye but there was really nothing I could have done – there was no way I could have got out of the way in time.
"There were players from Arsenal who refused to shake my hand before the match. I don't want to give you their names – that is not my style – but there's more than one of them.
"My friends, like Eboue, were fine with me. They are decent people. But I could not understand some of the Arsenal players being disrespectful towards me. These are people I have spent a lot of time with and people I thought were my friends. I can just about understand the fans' reaction because they don't know the full story.
"However the way some of the players behaved is just crazy. When a man offers you his hand, you shake it. For them to act like that was a disgrace."
Adebayor also insists he never asked boss Arsene Wenger for a move from the Emirates.
He said: "I'm not sure if the fans understand what happened during the end of my time at Arsenal but I have done nothing wrong. An offer came in for me and, as I understand it, Arsene and the club accepted the offer the same day. It was not my fault I left, it was Arsene who wanted to accept the offer for me.
"Arsene has said many things in the Press but I only take notice of those who matter to me. I read his comments but, as the tattoo on my arm says, 'Only God can judge me' not Arsene Wenger."
A perfect start for all four English sides, as Chelsea, Liverpool, Man Utd and Arsenalwin their opening games. Latest Outright Bettinghere.
For more fascinating features, subscribe and save 30% and use the below link?