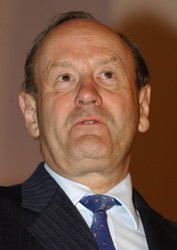 Betting on Football? Claim £500+ in free bets – click here now.
Football agents who obstruct Lord Stevens' inquiry into corruption in the sport could be suspended or lose their licence.
Lord Stevens also said his team may use Football Association rules to force agents to open bank accounts for inspection – after only 65 out of 150 co-operated with the original investigation.
"If we find irregularities we will pass that to the Football Association, if we find criminal acts we will pass that to the police," he said.
The FA admitted it can request the information under "powers of inquiry".
A spokesman said: "If we are asked to try to obtain information from agents, under our powers, we will do so."
Agents who fail to deliver the information required by the FA could then face a misconduct charge and may ultimately lose their licence.
On July 10 this year letters and questionnaires were sent to 150 agents requesting details of their activities. According to the enquiry, only 65 "responded fully", prompting him to approach the agents' guild and request their cooperation.
"The Football Agents' Association's board passed a resolution on September 27 urging members to open their bank accounts in this country and abroad to Quest in respect of our specific requests," Stevens said.
"There will continue to be a forensic investigation of agents' bank accounts, voluntarily or through the FA. There will be a forensic investigation of entities both onshore and offshore and individuals identified to the inquiry as having received payments out of the transfer monies. There is a large amount of work to be done in relation to that yet."
Lord Stevens examined all 362 transfers that took place in the Premier League between 1 January 1 2004 and 31 January 2006 – and revealed that 39 transfers will be investigated further.
Eight clubs are involved in the 39 transfers, although their identities are being kept under wraps for now.
"We will do everything we possibly can to find out the truth. I promise that," added Lord Stevens.
Betting on Football? Claim £500+ in free bets – click here now.