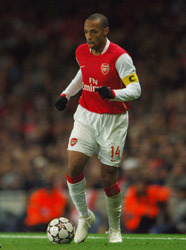 Barcelona have confirmed that they still want to sign Thierry Henry – but they will only submit a bid if the French striker tells Arsenal that he wants to leave.
Henry has been linked with a move to Camp Nou for over a year and Barca look set to make another approach for the striker.
Sporting director Txiki Beguiristain told the Sunday Express: "If he has the desire to play here, then we can see if it's going to happen or not."
Last week, Henry tried to play down speculation that he was set to quit the Gunners after being linked with Barca and Inter.
He said: "Since I started playing football there has been speculation about me going to a lot of clubs and that will never, ever stop.
"But as I said, for now I'm an Arsenal player, so there is nothing to add to it."
Barca defender Lilian Thuram has urged his compatriot to come to Barcelona.
"It would be great if Thierry came to Barcelona," Henry's former French international team-mate Thuram told the News of the World.
"It would very good for the club because he's a great player – and for him it would be positive too because this club is ideal for him."