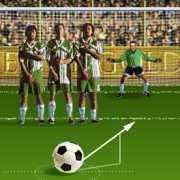 England captain David Beckham has stated that he wants to stay at Real Madrid for the rest of his career.
The 29-year-old, who has moved to quell speculation that he was keen for a move back to the Premiership
"When I left United, I thought I'd end my career at Real Madrid – that is what I want," Beckham told Real Madrid TV.
"If there is another deal I want to stay here. My family are happy and that is the most important thing for me."
Beckham said the arrival of new boss Wanderley Luxemburgo had helped to revitalise the Real Madrid team and his own form.
"I am 30 in May but I think I have a good few years when I can play at the top level," said Beckham.
"I think the best is to come. The start of the year has been refreshing for me and it is all looking better.
"Now we have a manager who has come here knowing what he wants and how to get it. Players respect him.
"What we need is to be worked hard and to have confidence.
"It doesn't matter who you are, but if someone comes in and gives you confidence, then it sets you up.
"He has helped me because I realise if I don't work hard I will not be in the team.
"He's moved me slightly to the right and the whole formation of the team is better than it has been for a while.
"The fun and laughter are back in the team. I think the players enjoy training now. There are smiles on faces and that eases the pressure."
Beckham also said he was keen to improve the standard of his Spanish.
"I am working hard at the language – I understand more, but I am a bit shy," he said.
"I don't talk much in England. There are hard things about moving to a different country with a family, but this is my second season and I've made it clear I want to end my career here."
Beckham also revealed that he had reduced his commercial activity, which he acknowledged may have played a part in his dip in form last season.
"I used to have 11 different sponsors, now I have five major sponsors," he said.
"Maybe last year I had too much, but now I have friends working with me and they have cut down what I do. Nothing comes between me and my football."