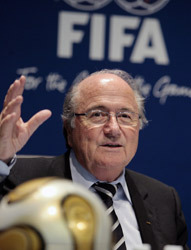 Simon Hopper has a 10/1 tip for the FA Cup this season – find out which club it is here
FIFA president Sepp Blatter has criticised what what he called the "envy and jealousy" of football's governing body.
FIFA came under heavy fire last year amid claims of alleged corruption. It also faced criticism for awarding the 2018 World Cup to Russia and the 2022 event to Qatar amid claims that the voting system encouraged collusion.
But Blatter told the Asian Football Confederation Congress that the organisation continued to go from strength-to-strength.
"In 2010 we had some milestones in the history of football, starting with the first World Cup on the African continent, and what a success," he said.
"Then we had the women's Under-17 World Cup which had its first Asian champions—South Korea—and then the decision of FIFA's executive committee to go to new destinations in 2018 and 2022.
"All these successes have created a lot of envy and jealousy in our world because you cannot satisfy everybody."
He added that FIFA was powerful and rich enough to fend off any attacks.
"The success story of FIFA can continue because we are in a comfortable situation, despite the criticism given to FIFA," he said.
"We have the power and the instruments to go against any attacks that are made."
With elections at confederations, as well as FIFA, due this year, Blatter said that people needed to learn how to lose, as well as win.
"In 2011 we will have competitions but there is something else at stake, this is the elections in all the confederations," he said.
"Football is still a game and you learn to win, but also to lose, so I ask you to behave and conduct them in a democratic way."
Simon Hopper has a 10/1 tip for the FA Cup this season – find out which club it is here
Take advantage of the January sales by saving up to 36% on a subscription to World Soccer