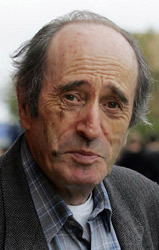 Win FREE Bets in our Premiership Quiz every day until the season starts! Click here for more info!
Perhaps it is only too dismally appropriate, even symbolic, that its two tainted clubs, West Ham United and Manchester City should open the Greed Is Good League programme at Upton Park next Saturday.
Hammers by general agreement, outside the Boleyn Ground and the League's flaccid hierarchy itself, are very lucky to be there at all. Under their previous hierarchy, they lied to the League about the deal they illicitly had for Carlos Tevez and Javier Macherano with a third party, yet they survived two tribunals without conceding the three points which they should surely and minimally have lost, the £5m fine imposed by the first hearing a mere bagatelle compared with the TV money to come from the new League deal. Sheffield United have every right to pursue their case, and their demand for £25m compensation for their relegation though Lord knows if they'll get it.
The revelation that Hammers' Icelandic Chairman had actually offered to let Tevez go – or if you like, stay – with Jia Joorabchian's still mysterious group for £100,000 getting off the hook only because for some obscure reason, Jia did not sign that agreement, makes things look stranger still. The suggestion that they had become "confused" when West Ham were fined £5.5 million hardly seems a valid explanation. As it is, West Ham get £2 million, and Tevez is set for Manchester United, where he will surely flourish.
The deeply unimpressive and indecisive supreme of the League, Richard Scudamore, could only bleat, "West Ham have admitted they were not clean and open with us last August, when they signed Tevez. We will have to be more circumspect (doesn't he mean 'decisive?') when dealing with clubs from now on."
Scudamore has emitted weasely words on the matter of Manchester City and their taking over by the noxious Thaksin Shinawatre, He said, "We don't fund the country, we run the League. There is a place where our job ends and the Government's job starts. If they tell us there's no problem, it is not for us to be second guessing."
But when did the Government, for what it is worth, tell the League there was no problem? Interviewed on BBC radio, a confused and incoherent new Sports Minister, one Gerry Sutcliffe, burbled, "I don't want to go into individual cases."
Hardly better was the response of the shadow minister for sport, Hugh Robertson, who drivelled that it was for "The Foreign Office and the Embassy to make a judgement on whether he (Shinawtra) is a fit and proper person."
The fact that the man has been unseated by a military junta has been a convenient excuse for inactivity, and probably will continue in use, even if and when the Thai court (said to be reliably independent) gives judgement against him for massive corruption. As for shocking accusations of torture and murder, brought by such well-respected bodies as Amnesty International and Human Rights Watch, they have simply been ignored. Fit and proper, indeed!
Isn't it, meanwhile, time that the dated farce of automatically turning down the application for a work permit for any foreign player outside the European Community, however accomplished, if he hasn't fulfilled the quota of 75% of official internationals over two years, only to admit them on appeal, is consigned to the Memory Hole?
There have just been two cases, hard on the heels of one another, which showed the fatuity of the system. Alex, the powerful Brazilian international centre back, whom Chelsea sent on loan to PSV Eindhoven, was so fed up to be kept waiting by immigration jobsworths at Heathrow for four hours that he actually flew back to Brazil. Only for his appeal to be granted in a few days.
The whole fiasco compounded by a bird brained Home Office Director of Border Control, Brodie Clark, who bleated, "We have a duty to ensure the public are aware of and have confidence in the security in place at the border."
Yet, only recently, a would be jihad bomber was allowed through to train in Pakistan, despite being caught with a case full of money then readmitted.
Arsenal's new Brazilian-Croatian, Eduardo Da Silva, was also initially turned down – but quickly cleared on appeal. As one who sat on the Department of Employment appeals group for two years, I can say only that the 75% criterion is hopelessly out of date, if it ever was rational, and that all cases should simply be judged on their merits by a relevant committee, regardless of arbitrary percentages, which can even allow a player from an obscure national team to be accepted, when a star of the magnitude of Eduardo or Alex still has to go to appeal.
Win FREE Bets in our Premiership Quiz every day until the season starts! Click here for more info!