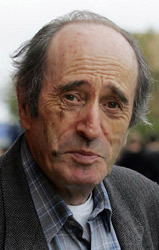 Not just Rome, alas; Turin all too horribly as well. We know all too dismally well what happened recently to Arsenal supporters in Rome before the Roma-Arsenal game at the Olimpico, what previously happened to Manchester United fans before Roma played them, what brutally happened to supporters of Middlesbrough, viciously and gratuitously attacked by Roma thugs in the beautiful, central Camp dei Fiori.
Now one has news, from a Chelsea fansite, which there seems no reason to disbelief of the appalling, cowardly attack made by 30 Juventus hooligans on a single Chelsea fan, before the Juve-Chelsea European game. They slashed him ruthlessly and cruelly across the face with knives. He will be scarred for life though he is thank goodness still alive.
What can be done? My previous feeling that a solution, so far as Roma were concerned, was to oblige them to play all home European matches outside the capital. But in Turin? Where, then, would Juve play? Not least when you remember that their fans come not just from Turin, where Torino have always been the more popular club, but from all over Italy. Hence the club's nickname, La Signora d'Italia.
It would be good but quite fanciful to think that UEFA might do something about all this. When do they ever? Michel "The Mouth" Platini is far too busy whizzing out half baked ideas like a mini Blatter It has been well and wisely pointed out that, when it comes to the extravagance of European clubs, he strains at a gnat and swallows a camel. The gnat being the English clubs whose debt which can barely be compared with the camel represented by clubs of the Primera Liga in Spain. Notably Valencia which has been appallingly run by one crazily spendthrift administration after another, and is now bent double under debt which beggars belief.
We've not heard Platini, such a glorious footballer and such a dubious administrator, whisper a word about this shocking violence. One solution might be to force such clubs as Roma and Juve – yes, yes, I know that they cannot be responsible legally at least for what their savage fans do away from the stadia – to play all their home European games outside Italy. Another could be simply to ban all foreign fans from travelling to Euro matches at the Olimpico, or in Turin. Hardly ideal, but at least it might protect visiting fans from shocking assault.
But no, Platini is too busy being grandiose and Blattersque, now about to inflict on the European game a blown up and bloated version of a UEFA Cup which has been falling apart at the seams and is now constantly snubbed and sidelined by the very clubs which qualify for it.
***************
Did Cesc Fabregas spit at the feet of Hull City's assistant manager, Brian Horton? (If you were of a truly cynical disposition, you might think that even if he did, it was marginally, if not morally, better than Patrick Vieira, the Arsenal midfielder he has so notably replaced, spitting full in the face of "Razor" Ruddock, when, some years ago, he was sent off the field at West Ham. Not that this makes it, if true, forgiveable.
Second question raised by the recent Arsenal-Hull City Cup tie which I attended, was Arsenal's goal, the winner, palpably offside?
Thirdly, was Phil Brown, Hull's incensed manager, justified in complaining that Arsene Wenger's protests incited the referee, the hapless Mike Riley, to book the Hull keeper Boas Myhill for wasting time, thereby allegedly of dictating the course of the game?
In answer to the third question, I'd say that when William Gallas scored that winner, he was clearly in an offside position, though when Arsene Wenger followed Brown into the press conference, he maintained that, since Myhill, under aerial challenge was last to touch the ball, then Gallas was played onside.
As to Phil Brown's second complaint, I asked him if he would elaborate on it. In which he replied that in his view, Wenger's intervention, on which he blamed the fact that Riley eventually gave Myhill a yellow card, did indeed whip up the crowd, to the detriment of his own team. Which seemed to me wholly illogical. Were his players such tender, sensitive souls that they would be affected by the partisanship of a home crowd?
I also reminded Brown, so critical of the refereeing of Riley, that he it was who so contentiously had charge of that fatal 50th game, when Arsenal's long unbeaten record came to a sticky end against Manchester United at Old Trafford.
When, you may remember, a dive by Wayne Rooney procured a phantom penalty – one of eight given by Riley to United at Old Trafford – while afforded no protection to the Arsenal left winger, Jose Antonio Reyes, from the rough treatment given him by United's right back, Phil Neville. To which Brown curtly rejoined that he was manager of Hull City and left the dais.
Yet you do wonder, while convinced that Riley at The Emirates officiated in a wholly honest way, whether, deep in his unconscious, memories of that Old Trafford game and his own, significant, part in it might have have stirred. Which reminds me that it is now seemingly accepted that it was indeed Fabregas, in the exuberance of youth, who threw all that pizza over the blessed Alex Ferguson.
Perhaps the fact could also be recalled that only a crass refereeing blunder saved the Gunners from home defeat, quite early in their 49th match run, when Robert Pires, blatantly diving, won them the phoney spot kick, converted by Thierry Henry, which saved them from defeat by Portsmouth. So what went around, you might say, duly came around.
***************
"Clough, enough!" as Cassius Clay, alias Ali, cried, when he was on the dais of a West End hotel, publicising one of his London fights. Clough briefly joined him, but was totally outgunned.
Now following the release of the film The Damned United, there is endless reminiscences of Brian Clough's remarkable career. I've written before of my suspicions of the original book, which seemed to me a sensationalised exercise in paranoia, not least because one significant episode in which I chanced to play a focal part had been absurdly distorted.
That was when after Derby County had lost 3-1 in Turin to Juventus in a first leg European Cup semi final, Clough emerged from the dressing room to upbraid the waiting Italian journalists to say, "No cheating bastards do I talk to; I will not talk to any cheating bastards!" I wouldn't translate, but Clough then re-emerged to insist: "Tell them what I said Brian." Which I did. But, according to Peace's lurid version, Clough came out with a stream of obscenities. He didn't.
The other tale concerns the time Graham Taylor, then manager of Watford, was sitting next to Elton John, then the club chairman, when Clough's essential sidekick Peter Taylor, rang, asking if Graham could persuade Elton to sing at half time in a planned benefit match for himself and Clough. Graham didn't tell him Elton was sitting beside him.
When Peter rang again to be told there was no news, he replied, "Mark our card of us, Graham, and if Elton does come, you can have a look at our reserve side and take any one player you like on a free."
There is no doubt that Peter, with his flair for spotting players, was absolutely essential to Clough; but both were ever in search of ways of making money.
It still baffles me that Clough should ever – surely the ultimate hubris – have believed he could succeed at Leeds United, having alienated their Revie-adoring players beyond any hope of reconciliation, with his ferocious abuse of their methods and his insistence that they had won every title they did illicitly.
To be remembered, also, was the devastating effect he had, when he left Leeds on the hapless players of Brighton, whom he demoralised to such an extent that they were thrashed 8-2 at home by Bristol Rovers, then put out of the FA Cup there by non League Walton and Hersham.
Those who insist he would have made a successful manager of the England team are surely deluded. He ruled, however effectively, at club level, to a very large extent by fear. He couldn't have done that with England, as he would not have had the same ultimate power; merely the power to pick people or drop them.
***************
Good to see Ben Foster at long last restored to the England squad all those years after winning his one cap against Spain, while on loan from Watford. Although last week I saw at The Hawthorns, Scott Carson something of a disaster in England's games, defy Bolton for much of the match, I cannot believe he deserves after his blunders to be restored to international favour.
As for David James, calamity is forever in the offing. Harry Redknapp meanwhile was surely right to deplore Capello's choice of Ledley King, whose suspect knee required tender loving care, no matter how well he plays for Spurs – as indeed he does – when they choose him. Despite the fact he cannot even train.
The Gerrard-Lampard dilemma is still to be faced and resolved by Capello. With Gerrard in such gloriously effective form for Liverpool, it would surely be daft to stick him out on the left flank – as in Belarus – to accommodate Lampard.
David Beckham? He has the remarkable gift of persuading others; even in his static last years, of sharing his own elevated opinion of his talents. Surely those infinitely faster, much younger, right wingers, Shaun Wright Phillips, a rare England success in Seville, and Aaron Lennon, properly restored to favour, should have precedence. So should Theo Walcott, when he returns from injury.