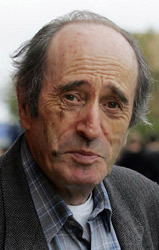 To zone or not to zone; that seemed to be the question. At least it was after the strapping Chelsea defender, Branislav Ivanovic, twice came roaring through the Chelsea defence on set pieces at Anfield to beat Liverpool's keeper Jose Reina with fulminating headers.
All the fault of zonal defence, we were told. Andy Townsend on television regaled us with somewhat bewildering diagrams to prove as much.
Tony Cascarino, once famous with headers for Villa, Millwall and Ireland, insisted in his newspaper column that man to man marking should always be imperative. It seemed an arguable point.
Undeniably no one had been picking up Ivanovic as he surged through. But in so far as he arrived from outside the penalty box, this implies that he should have been shadowed outside it. Which, indeed, he wasn't. Somebody, in other words, should have run with him, and challenged him as he himself challenged for the ball.
Perhaps it should even have been Fernando Torres who, besides being one of football's finest strikers, is a tall young man who could surely compete with Ivanovic in the air, albeit defensively.
My own mind went a long way back to the Olympic Stadium in Rome in 1976, when Italy smothered the English attack with their man marking and themselves in this World Cup qualifier scored twice, the second by Roberto Bettega after a left flank set piece.
After the game, I joined with him and the Italy centre forward, Ciccio Graziani, in a radio interview. Smiling, Bettega having neatly headed that goal, opined cogently that when marking was zonal rather than man to man, there could be brief moments of confusion in a defence, when defenders were fleetingly unsure who should be picking up whom.
To parenthesis, the way Italy that afternoon man marked the two English strikers out of the game, you wondered how such defensive methods could be countered. But countered they certainly have been over the ensuing years, with the Italians giving up catenaccio with its sweeper and man to man marking for the zonal game.
Criticism of Liverpool's tactics on the evening of that emphatic defeat also elicited retrospective strictures on Big Phil Scolari, for using or misusing zonal tactics at Chelsea. But though his successor, Guus Hiddink, successfully shadowed Steve Gerrard with Michael Essien, this was something of a limited case.
Right, then, let us assume and admit that Ivanovic should have been man marked; by somebody, as he started his surge. Yet this too, was surely a special case. Previously, Liverpool had twice beaten Real Madrid in the European Cup, without giving away a goal, then brushed aside Manchester United at Old Trafford. And not a word was heard about their supposed marking deficiencies in set piece defence.
The Saturday after Chelsea's victory, at Anfield, I watched them labour to a shaky 4-3 victory at The Bridge over Bolton Wanderers. Yes, Ivanovic did once belt into the box for a header which enabled Drogba to score with a final touch, but other than that, Bolton, deploying till late in the game a packed defence rather than a man marking defence, kept him at bay.
A zonal defence, of course, implies that defenders are responsible for their own specific space, and whoever comes into it, rather than to any specific opponent. Yet properly and alertly applied, there is surely no reason why such methods shouldn't work.
Far more alarming is a situation, such as one saw at Chelsea last Saturday and again on Tuesday in the return game against Liverpool, when their goalkeeper, Petr Cech, seemed utterly to lose his nerve, fumbling almost every ball which came near him, eventually derided by an ironic crowd, each time he actually managed to catch the ball.
***************
Richard Corbett, Labour European MP for Yorkshire and the Humber, will soon be defending his majority. He must be feeling somewhat shaky about it if it, rather than sheer, fatuous busy idleness, has moved him to demand an investigation of Leeds United's scandalous defeat by Milan in the 1973 Final of the European Cupwinners' Final in Salonica.
Of course Leeds were robbed; by a corrupt Greek referee named Christos Michas, who, by the end, was being jeered even by the Greek supporters. Of course UEFA did nothing about it.
In our exhaustive probe into the bribery of European referees by Italian clubs in the Sunday Times, Keith Botsford and I made frequent references to that squalid occasion.
But now? After all these years? And after the unpunished depredation of the time by Inter, from which Borussia Dortmund and Liverpool suffered? And Derby County, in 1973, would have done at the Baseball Ground, were it not for the unrewarded honesty of the Portuguese referee, Francisco Marques Lobo.
Corbett has apparently collected 15,000 signatures for his misguided petition. So what? No one would be happier than I, or Keith, had Milan and Inter been brought to justice at a time when it was practical and relevant. UEFA at that period, alas, danced to the tune of the rich Italian clubs and there was never a hope.
***************
While the Italian football press brayed of our "scandalous accusations." Yes, it was a hobbyhorse of mine for many years. But I would rather not share it with a fatuous opportunist like Mr Corbett. Nor, seemingly, would Norman Hunter, left half for Leeds in that game. "Too much water has gone under the bridge now," he wisely says. But not, it seems for Mr Corbett.
***************
A bad referee or a brave one? Maybe Howard Webb, at Nou Camp last week was both. True, he awarded Lionel Messi, Barca's elusive star, a yellow card rather than a penalty, when he was brought down in the box; to the fury of the Barcelona coach, Pep Guardiola, whom he sent to the stands. But it surely took a perverse kind of bravery to give such a decision, however erroneous, in front of 93,000 impassioned Catalan fans.
***************
Foster for England? Having long beaten the drum for the Manchester United keeper, I was sorry to see him make a blatant error on a high cross to give Sunderland their goal, at home to United, last Saturday. Remembering Prime Minister Clement Atlee's devastating put down to the garrulous Profession Harold Laski long ago, I will observe a proper, penitential, period of silence in Foster's respect. Wishing him subsequent success.