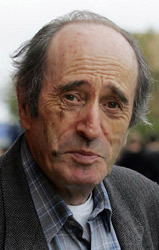 Now comes the film of that acerbic book The Damned United, the highly imaginative, not to say confected, story of Brian Clough's doomed 44 days at Leeds United.
I didn't like the book, which seemed to me sensationalised as was to bear no comparison with Duncan Hamilton's delightful memoir, based on 20 years journalistic acquaintance with Clough, As Long As You Don't Kiss Me.
My own peripheral involvement with Peace's book made me somewhat suspicious of the rest of it. The incident in question having occurred just outside the dressing room in 1973 after Derby had lost in Turin to Juventus in the first leg of the semi final of the European Cup. Clough opened the door and addressed the assembled journalists: "No cheating bastards will I talk to. I will not talk to any cheating bastards." Which seemed a bit harsh in so far as none of the supposed bastards had any official connection with the club.
When he closed the door again the reporters turned to me, clamouring "Cos'he detto, Glanville?" (What did he say?). I feigned ignorance. Then the door opened again and Cough told me: "Tell them what I said, Brian," which I duly did, with the inevitable results.
But in Peace's book though he uses the phrase "Cos'he detto?" he proceeds completely to distort Clough's actual words, with dialogue peppered with obscenities which he never for a moment uttered. If this is what Peace has done with an episode in which I was centrally concerned, then what has he done with the rest of the story.
Of all the Leeds players involved in the book, and Billy Bremner of course is dead, only Johnny Giles threatened to sue if certain passages involving himself were not removed; which they were. The result, from a critic who has seen the film says, is that Giles emerges not in any way as malign, but as rather dim. This in itself is a major libel on Giles, whom I have known for many years as excellent player, manager and journalist, is in fact an alert and thoroughly intelligent man, probably the most so of that whole Leeds side.
The counter tendency now seems to be to elevate Clough to a kind of sainthood, which is equally ill informed. Nor do I believe that with his methods, based to no small extent on fear, he could have been a successful England manager.
Of his greed, as in the case of his archenemy and former Leeds manager Don Revie, there are also all too many instances. Not least an episode when his sidekick in that love-hate relationship, Peter Taylor called his namesake Graham at Watford, unaware that Elton John, then the club's chairman, was sitting beside him.
Clough and I, said Peter, are having a benefit game; see if you can get Elton (then struggling by on some £7m a year) to come and sing for us at half-time. "Mark our card for us, Graham, mark our card." Not long afterwards, Peter rang again to be told once more that there was no news. "Mark our card for us Graham," Peter exhorted again. "And IF Elton does one, you can look at our reserves and have any one player you like on a free."
****************************
It would hardly be an exaggeration to say that poor Ben Foster has been subjected to the Pavlovian rather than the hairdryer treatment by good Sir Alex.
The Russian scientist Pavlov being renowned for subjecting his dogs to alternating stimuli. At Wembley the other Sunday, Foster did actually get a rare game in goal for Manchester United in the League Cup Final and surpassed himself, no mean feat, with a display crowned by a spectacular save from O'Hara of Tottenham's penalty.
Cue man-of-the-match award, though I myself who was there would have given it to Tottenham's Luca Modric – and a eulogy from Ferguson who hailed Foster very properly as the future England goalkeeper, and promised him a four or five-year contract. Quite right too! I have been what you might call a Foster man for a long time now. Not least when, late last season, after a cruelly long absence through injury, he suddenly found himself called up to play against Derby in the united goal, his first game of the season, and excelled in keeping out shot after shot when Derby to their credit, rose powerfully from the ashes in the second half.
Thanks to him United kept their 1-0 lead. My hope then was that he would be lent out again as indeed he was a few years ago when he played so splendidly for Watford that he was actually capped for England. No such luck. This season he has largely found himself third choice behind the evergreen Edwin van der Sar and his Polish number two.
In the meantime, England have had to put up with Calamity James, who blundered but got away with it in Seville against Spain and continues as ever in his veteran years to alternate brilliance with disaster.
Not to mention the appalling challenge in Trinidad when, rushing out of his goal when there was no need to do so, he crashed into Kenwyne Jones of Sunderland and put him out of he game for months. What a delight to find Kenwyne at last back again and seemingly none the worse for wear.
It seemed logical after what happened at Wembley and to the United team at Newcastle when van der Sar gave away a goal when he let a ball slip, that at least Foster would get a game at Fulham; hardly the most intimidating of opponents. But he didn't, van der Sar was back again for what proved to be United's cakewalk. I suppose you could see that everything comes to those who wait, and that if van der Sar retires at the end of the season, Foster will step into his role. Meanwhile, he has been obliged to wait most of the season in the wings. What a waste.
****************************
Talking of goalkeepers, I saw two very god ones last Saturday at Shepherds Bush in an otherwise largely undistinguished game between Queens Park Rangers (whose present apology for a Press Box testifies only to the hardly successful, money pinching methods of the current, supposedly mega-wealthy owners) and Sheffield United.
For the Blades in the first half, there was a splendid performance by Paddy Kenny, who seemed recently about to leave the club but luckily for them has stayed.
In the second when the Blades came to life, it was QPR keeper Radek Cerny who took the eye with one resilient save after another. So much so that you began to wonder why Spurs had let both him and the Hungarian, two very tall keepers, go while foundering on the errors of Paul Robinson and now the hapless Brazilian Gomes. Hungary's towering Martin Fulop has played so well for Sunderland that even the hugely expensive Scotland keeper Gordon cannot get back into the team.