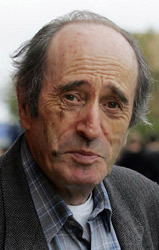 Is Michel (The Mouth) Platini turning into a second Sepp (51 bad new ideas every day) Blatter?
His loud and raucous castigating of English football for its expenditure and its debt is in sharp contrast with his disingenuous silence on the subject of Spanish football, whose debts make our own clubs' look almost trivial.
Real Madrid, who almost always seem to find money from somewhere to buy new talent, for all their indebtedness, Barcelona and above all Valencia, almost hyperbolically in debt thanks to sustained mismanagement, somehow avoid criticism from Platini.
As Latins, perhaps, as opposed to Anglo Saxons? So many ideas, some of them illogical, spring from his mouth and mind that one recalls the apocryphal words long ago of President Dwight Eisenhower to his abrasive Secretary of State, John Foster Dulles: "Don't just say something! Stand there!"
Rome, sweet Rome. Perhaps Platini could finish his pompous posturing over the alleged financial failings or excesses of our English clubs and give some attention to the appalling violence with which Roma's fans (and Lazio's come to that) have so long been associated.
Almost predictably, there was horrifyingly more of it when Arsenal visited the City last week, a coach full of Gunners fans being blocked by a car, windows smashed, attempts made to set the coach on fire, the incursion of a hooligan, who stabbed one of the passengers.
Last year when Manchester United were the opposition visiting fans were attacked and stabbed in the buttocks. Yet Rome and the Olimpico are the choice for this seasons' Euro Champions Final the hope being that now Roma are not among the survivors, their brutal teppoisti won't be at their cowardly antics.
As far back as 1984 when Liverpool beat Roma in the Final at the Olimpico, there was appalling savagery after the end, when Liverpool fans were brutally attacked with chains and iron bars. Even the Roman press deplored it. And the horrors of Heysel the following year when 39 quite innocent Juventus fans – all the hard nuts were down at the other end of the stadium – died may in some sense be seen as the appalling sequel to what happened in Rome a year earlier.
Your average Scouser fan one has been told espoused a policy of "never again," failing to discriminate between fans from Rome and distant Turin. And inevitably not knowing that the people they attacked were largely from families which had erroneously been allowed to get tickets at that end, probably sent back to them by Italian immigrants. And yes, I would be one of the first to admit and assert that the 95 Liverpudlian victims at the Hillsborough semi final were doomed innocents, too.
Despite Platini's presence, UEFA are the inept body that they always have been, but surely it is more than time that Roma for the foreseeable future be obliged to play their European games away from the city, even if it be in Milan or Turin, rather than abroad.
***************
Is Alex Ferguson losing his grip on reality? Or does he perceive in some occult way truths which elude everybody else? To declare after his Manchester United team had been torn apart 4-1 by Liverpool, their best win at Old Trafford since 1936, that United had been the better team seemed the stuff of sheer delusion. There is a plain danger of Ferguson diminishing into a figure of fun.
Yet watching the images of Dossena's lob sailing over a hopeless stranded Edwin Van der Sar and into the net, you did wonder whether this was some kind of condign punishment on Fergie for persisting, despite all those honeyed words, with keeping Ben Foster on the bench.
After Foster had saved that spot kick in the League Cup Final against Spurs at Wembley and received such accolades, Ferguson eulogised him, said he would give him a contract for four or five years, and supposed his place claims on the England team.
Yet when push came to shove, what happened? Recalled to the colours, Van der Sar fumbled embarrassingly at Newcastle, giving away the first goal he had conceded for many a match. When it came to the next game; an FA Cup tie at Fulham which United would win 4-0 in a canter, you might have thought Foster would be given a run. He wasn't and that gifted keeper, who played so splendidly when on loan years back to Watford and did win a cap, continued to stand, or sit, and wait.
With Calamity James still as always alternating the brilliant with the disastrous, the sooner Foster gets regular games in the United goal – and Van der Sar isn't planning to retire till the end of the season – the better for England. And, arguably, for United.
***************
But United's problems are nothing to those of their rivals, Manchester City. How encouraging it was, for those of us who still cling to the hope that even in today's football, money isn't everything, to see City's limp performance last Sunday at Stamford Bridge against that other billionaire's plaything, Chelsea.
Except that now all that Middle Eastern money has gone into City, while Roman Abramovich has reportedly lost many billions in the Russian credit crunch, Chelsea seem almost mendicants by comparison with City. In whose case the mountain is constantly parturating a squeaking mouse.
After the defeat 1-0 by a no means exceptional Chelsea team, City's manager, Mark Hughes, made a somewhat limp attempt to excuse yet another dull performance by his £34 million Brazilian, Robinho. He didn't go so far as to suggest that the sun – shining for once that afternoon – got in Robinho's eyes, but perhaps he might even done so, given that Robinho spent so much of the match standing around on the left flank.
True, Craig Bellamy, who might have put a little ginger into that flaccid attack, wasn't playing but as and when he does come back he will have quite a burden to carry.
Chelsea? Despite their recent improved results under Guus Hiddink – will he stay or will he go? There are conflicting signals – they do not convince me. Until Malouda came on late in the game, they were once again without wingers, which put a heavy burden on the overlapping full backs: of whom the right back Bosingwa was particularly adventurous and effective. I still don't think Anelka and Drogba really complement one another,
I don't think the two European ties Juventus showed Chelsea as a dominant force. One saw them squeak through 1-0 at home, and labour to achieve a draw in Turin. No comparison at all with the majestic form of Liverpool, inspired by a splendid Steven Gerrard, in the crushing of Real Madrid (how have the mighty fallen? How good now does the surprising appointment of Juande Ramos seem?) and subsequently, of Manchester United.
In passing, you can hardly blame the young, promising, once capped Manchester City goalkeeper, Joe Hart, for wanting to go out on loan to improve his chances of further honours. Not least after he had seen at Stamford Bridge a curiously untypical sequence of uncertainty by his hugely expensive replacement, Shay Given; a culpably missed cross, a potentially costly fumble, in quick, second half succession. But Essien's return gives Chelsea drive and hope.
Arsenal? What a pity they cannot use the Cup tied Andrei Arshavin in their coming European games. I was at Highbury to admire the supreme dexterity, enterprise and flair of the little Russian, undeterred even by the fact that he had to have stitches in his foot at half time.
In Rome, the Gunners merely squeaked through on that massively illogical irrelevance, penalties, against a Roma side which – though Francesco Totti though still injured was in commanding form – have slipped far below the leaders Inter in the Campionato. And the Gunners were in fact exceedingly lucky not to give away a spot kick during the game proper when Gael Clichy was so plainly guilty of a foul.
Yet even without Arshavin, whose solo goal against a bruising Blackburn was a small masterpiece – the Gunners surely have a wealth of talent. Even without the huge financial resources of Manchester City and Chelsea. They did not even need Robin Van Persie to thrash Blackburn, nor was the injured Eduardo available. But Theo Walcott is, thank good back, showing all his old pace and dash.