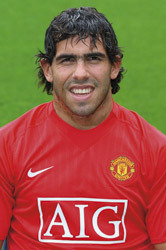 World Soccer: You scored your first goal for Manchester United against Chelsea, one of the biggest games of the season. How did it feel for you?
Carlos Tevez: It was great. I always like to appear in the big games, and for a player like me it's always important to score. Sometimes you don't get the chance to do that, and you feel frustrated because you know that you've done everything you could have done. That has already happened to me a few times at Manchester United, but I trust in myself and in my team-mates.
I was very happy for myself, of course, but also for various people who had been made to suffer a bit [because of United's poor start to the season]. The most important thing about getting my first goal was it meant that those people who had placed a lot of faith in me by bringing me here in the first place were able to relax a bit. I was always calm myself, but some other people were under pressure for me to perform.
Will Jose Mourinho's departure mean Chelsea are going to be less of a threat this season?
I don't think that anything will change just because their coach has left. Clubs of that stature don't just rely on one person for success, they have an entire structure in place. They will remain as important a force as they have been until now.
How do you see the Premier League race unfolding? Can United can retain the title?
Manchester United are like Boca Juniors and River Plate in Argentina: they are obliged to fight for the title, and if they don't win it, it is considered a bad season. I think United are the main candidates to win the League, followed by Arsenal and Chelsea. These three teams are the most powerful in England.
How are you finding the physical side of the English game? Do your opponents try to intimidate you physically?
I started to notice that already when I was at West Ham. My time there helped me to understand better how the game is played in England. I was also able to benefit from a proper pre-season this summer, so I am now used to everything. Nobody is going to make me scared. If I didn't get scared when I played football as a kid in Fort Apache, where there was broken glass on the ground and where I played against guys who were all bigger than me, I am not going to get scared in this league, which has the best pitches and the best referees.
Are you now completely into the rhythm and style of the game here? Have you had to modify your natural way of playing?
Yes, I feel I have now fully adapted to English football. I didn't have to modify anything really. All I needed to do was to learn to use my body strength a bit more against an opposition player.
What are your impressions of Alex Ferguson as a coach? Can he improve you as a player?
He, more than anyone else, was the person who was determined that I should come
to Manchester United. I have the feeling that he will always stand up for me in the face of any negative comment or criticism directed at me, and that is always very important for a player. As far as I can see, he works in the same way with all his players. He provides me with tactical advice and information, but beyond that he just allows me to play the way I know best.
Are you being asked to play a different role from the one you had at West Ham?
There's maybe a slight difference. Mr Ferguson gives me more freedom up front, although how I play sometimes depends on the team we are playing. I am used to dropping back a few metres to help the midfielders, something I have done at Boca, Corinthians and with Argentina. At West Ham it was a bit different because I was often asked to operate as a playmaker.
You have had your first taste of the Champions League. Is it living up to expectations?
Yes, everything is just as I had imagined it before I came to Europe. It's great to be involved in a competition like this.
Some people have suggested that you and Wayne Rooney are too similar to play effectively together up front. Do you agree?
Not at all. Everyone has seen recently that we can play together without any problems, and the longer we are together and the better we get to understand each other, the more damage we will do to other teams. Between us, we can hurt any team.
Do you enjoy playing with Cristiano Ronaldo?
Oh yes, definitely. He is very skilful and intelligent, and he is also very quick.
How does he compare with other creative players you have played with or against?
I would say he shares certain qualities with Zidane and Riquelme. But he is also very brave with the ball at his feet. It's always a delight to play with him, because you know that he is always going to give you the ball exactly where you want it.
Your move to Old Trafford from West Ham was protracted. Were you ever in any doubt that it would go through, and if it hadn't, what would you have done?
I don't know what I would have done. Thank God everything got sorted out in the end. I never thought that it wasn't going to happen because I was told all the time that it was going to be resolved. Obviously there were times when my mind started to race a bit, but I always tried not to think too far ahead.
You have never hidden the fact that your heart lies with Boca Juniors. Are you able to follow their progress?
I am lucky enough to be able to watch Boca's games every Sunday from my home in Manchester. The team are not going through a very good period at the moment, which is difficult to watch.
When I see them play, I wish I could do something to help them.
Is a return to Boca a possibility?
Not at the moment, but it's something that could happen in four or five years. I want to make sure that when I do go back I am still in good shape. I don't want to leave it until I am fat and unable to move.
Do you socialise with the other players?
Not much, since I try to spend as much time as possible with my family. Things are not the same as in South America. Here, everyone does their job then goes home.
What about Javier Mascherano? You're both in the north-west now.
We're always on the phone to each other.
Diego Maradona has said he plans to come to England to see you play.
I hope he does. If he watches us at Old Trafford it's going to be a real revolution.
He recently said he regards you like a son and that you remind him of himself when he was your age. Is the comparison justified?
I know he cares a lot about me and, of course, I am proud every time I hear him saying kind things about me. It's the same when Riquelme talks about me. All three of us are true Boca supporters and we all love football. I can't play in them any more now, but for a long time I used to wear a pair of boots that Riquelme gave me just before I made my debut for Boca, when he was about to be transferred to Barcelona.
Are you in regular contact with Maradona? Does he give you advice?
I spoke to him a lot when I moved to Corinthians from Boca Juniors, and he gave me lots of advice then. That was such a big transfer that many things were said about me in the media, and I also went through some bad stuff with the paparazzi, I came in for a lot of criticism after I started to go out with an Argentinian model. Diego used to call me frequently to advise me on how best to handle all of that.
You are currently involved in the making of a movie about your life. How is that going?
The movie [directed by famous Argentinian actor Gaston Pauls] is going to be great. I am not doing much for it yet, because the stuff being shot at the moment are the scenes about my childhood. I would like the film to be seen all over the world if possible. I would be proud to show everyone what it is like in Tevez's world.