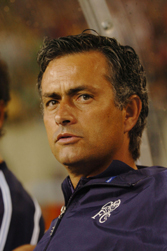 Chelsea have complained to Uefa after an alleged incident at half-time of their Champions League tie, during which Barcelona boss Frank Rijkaard and referee Anders Frisk were seen chatting in the players' tunnel.
Chelsea went down 2-1, after leading 1-0 at half-time and seeing striker Didier Drogba sent off after the interval.
Jose Mourinho and the team refused to speak after the match – and the Chelsea manager could be fined as a result.
"The reaction of some of Chelsea's side was a bit exaggerated," Rijkaard said.
"I said something about the game in a very polite and informal way to the referee.
"It is not true that the referee went into our dressing-room and I am glad this rumour has come out because now it seems even more ridiculous to me."
The only comment from Chelsea was a formal statement read by spokesman Simon Greenberg.
"We will be submitting an official complaint to Uefa about an incident that occurred at half-time," he confirmed.
There were also unconfirmed reports that Barca assistant Henk Ten Cate kicked out at Mourinho during a scuffle in the tunnel at the break.
Afterwards, Rijkaard criticised Blues boss Mourinho.
"It's the job of the coach to come out and speak to the media," he added.
"There was a lot of talking before the game and now surprisingly there is a lot of talking after the game. It is not good behaviour after a match.
"Maybe they want to start something and make it worse than than it is. I really don't understand it. I am very calm about it.
"We didn't start anything and I didn't talk to the referee in an aggressive way. I was very polite.
"I think what they are talking about is very exaggerated. I am also curious about what the Chelsea declaration will be."
Speaking of the game itself, Rijkaard admitted he was pleased with his team's performance.
"Chelsea is the team which has conceded fewest goals in the English league and they defend very well so I am very pleased with the win.
"My men deserved victory and I am pleased to have won this match. I congratulate my players."