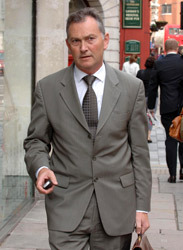 Aberdeen, Rangers, Bolton, Everton and Tottenham are all in UEFA Cup action this midweek and we've got all the best odds in our match coupon!
Premier League chief executive Richard Scudamore says he has the support of all 20 clubs for the proposal to play matches abroad.
The Premier League announced last week plans to play an additional round of matches overseas from the 2010-2011 season, leading to 39 games a season.
The plans have come in for severe criticism from a number of quarters, but Scudammore remains unrepentant.
"My shoulders are fairly broad. You take this job knowing it's always going to be an easy ride," he told Sky Sports.
"You work for the 20 clubs. Most importantly you have to work from your base that surrounds you and is closest to you.
"It's important we have the support of the 20 clubs and we still have the support of the 20 clubs to investigate and look at the proposal and bring it back.
"The media have tried to make up some idea that people are breaking ranks, but everyone is in the same position.
"They want to know answers to some questions. They want to think through some of the implications for the competition. They want to know whether the whole thing stacks up and that's exactly where we are, so the clubs are solid.
"We had a good meeting yesterday at the professional game board of The Football Association where we explained some more details to our Football League and FA colleagues.
"Because it's the start of the consultation process our professional game colleagues, both Football League and Premier League, were enthusiastic and could see the merits in the proposal, but like all of us need a lot more work to be done."
Scudamore claims to unanimous support from all 20 Premier League clubs, Wigan chairman Dave Whelan has admitted he is on the fence while Aston Villa owner Randy Lerner is reportedly opposed to the idea of playing a league game in the United States.
"In fairness to Dave Whelan if you read exactly what he said is 'I'm neither condemning it nor condoning it. I need to see whether the numbers stack up'," he continued.
"In a sense that's where all 20 clubs are. There are lots of questions yet to be answered and we need to see whether it stacks up.
"We need to see whether it's worth it. Is the gain worth some of the downside?
"I can deal with the Randy Lerner stuff easily. He was quoted in relation to a direct question of 'Would the Premier League take a game abroad like the NFL did coming to Wembley?'
"Randy Lerner is quite clear distancing himself from that report. Randy's position on this is very different because it's a proposal that involves all 20 clubs. It's systematic and done for very different reasons.
"It's a strategic play that involves all 20 that creates and makes sure our solidarity mechanisms and that the league stays together when doing this rather than cherry-picking the odd game or a club or doing something differently.
"So Mr Lerner is entirely comfortable with this proposal."
Aberdeen, Rangers, Bolton, Everton and Tottenham are all in UEFA Cup action this midweek and we've got all the best odds in our match coupon!