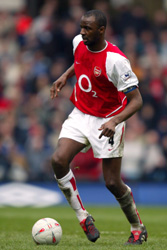 According to reports in Spain, Real Madrid have submitted an £18m bid for Arsenal midfielder Patrick Vieira.
Both clubs have refused to comment on the reports, fuelling speculation that the Premier League champions may be prepared to countenance the sale of their captain.
Spanish newspaper Marca reported: "Real Madrid have made a formal offer."
But an Arsenal spokesperson said: "It is the club's policy that we do not comment until as and when a player signs or leaves the club."
Meanwhile, a Real representative said: "We have no information available concerning Patrick Vieira and Real. We cannot say if there has been a bid."
According to the Marca report, Real faxed the bid for the 28-year-old, with Marca adding: "The transfer talks are in the final stages."
Arsenal manager Arsene Wenger has persistently denied that Vieira was for sale.
"We don't need the money. The money will not decide us, no matter how much it is," said Wenger.
"We are not Chelsea, we have to look at what we spend but we do not have a need to sell our players."
"The club is there not to have a big bank account but to have a big team.
"We are in a solid financial situation at the club. And I have never changed my version, we want to keep Patrick Vieira."