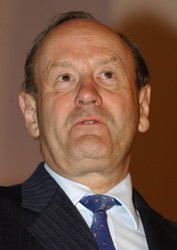 Betting on Football? Click here and generate more money on every correct bet.
Lord Stevens' inquiry into football corruption within the Premier League has been extended by two months to investigate 39 transfers in more detail.
The former Metropolitan Police commissioner and his Quest invesitgative team, examined 362 transfers which took place between 1 January 2004 and 31 January 2006, concluding that 39 transfers involved eight clubs and need "further investigation".
"Quest, under my leadership, has managed to examine 362 transfers and reduced that down from that to 39.
After reporting his findings to the Premier League, he added: "This interim report remains a work in progress."
Richard Scudamore, chief executive of the Premier League, said Watford, Sheffield United and Reading – who were promoted to the Premiership in the summer – were not part of the investigation.
And Scudamore said Leeds were not involved as they did not buy or sell any players as a during the period under scrutiny.
"Those four clubs are no longer party to the inquiry, but the 25 clubs which remain are," Scudamore said.
"Those 25 clubs wished to express solidarity with their colleagues, and there was no call for the eight clubs to be identified and therefore – mathematically what would be the remaining 17 clubs – to be released from the inquiry."
Scudamore added: "If there is any criminal activity we will pass that to the police."
Lord Stevens revealed that he was confident that the inquiry would "get to the bottom of what the problems are."
"This is not an easy inquiry but we will do everything in our powers to make sure it is a successful one," he said.
"They are within the English game and require further investigation before I am prepared to sign them off. These involve eight league teams.
"The work conducted led me to make a number of observations regarding administration and monitoring of the transfer market. These were made to the chairman and chief executive of The Premier League.
"Once the enquiry is complete we will report these as recommendations for consideration by the league.
"I would like to express gratitude to the clubs and regulatory bodies and others involved in the game for their unanimous support."
The Stevens inquiry was set up by the Premier League after allegations of corruption were made earlier in 2006. The Premier League says the report was commissioned simply to find out if there were illicit payments to managers.
The issue of illicit payments returned to centre-stage last month after an undercover BBC Panorama investigation into bungs.
Betting on Football? Click here and generate more money on every correct bet.