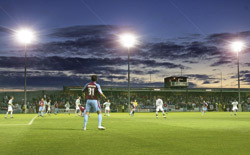 Failure to attract more fans to the domestic game is still a major problem.
The Irish have a reputation for liking a drink. But as every drinker knows, if not enough customers are going into a pub then the owner cannot afford to pay the staff exorbitant wages.
And that is what's been happening in the League of Ireland over the past few years, with attendances declining as the players' wages have spiralled out of control.
The situation came to a head last season when Drogheda United and Cork City went into examinership (administration), and several other clubs only got through the season after their squads took wage cuts.
Drogheda almost went out of business completely after pinning all their hopes on a move to a new out-of-town stadium. But objections to the floodlights scuppered the plans of the Drogs, who had overspent when they won the League for the only time in their history in 2007.
Cork went into examinership after just one season under new owners, but fortunately the Leesiders survived and seem safe for now at their renovated Turner's Cross ground.
This season clubs have had no choice but to cut back on wages as the FAI said it wouldn't issue licences to clubs unless they presented viable budgets. Meanwhile the Irish economy, which a few years ago was one of the strongest in Europe, is in free fall with rising unemployment and recapitalisation of the big banks.
A few years ago the aim was to have a full-time professional league, but this season only Bohemians, Dundalk, Derry City and Sligo Rovers can be considered full-time, while Cork and St Patrick's Athletic will have a mix of professionals and part-timers.
"What we need for this season is absolute stability," says League of Ireland director Fran Gavin. "From the administration side, we can only set the groundwork and set the scene for the clubs.
"When we did it last year it didn't really work. This year we had to bring in new regulations to allow us to make decisions. Now if a club goes into examinership there will be major consequences for them."
But while Irish airports and ferry ports are busy every weekend with fans making their way to see English Premiership games, and the Republic of Ireland can attract crowds of up to 70,000 to home internationals at Croke Park, there doesn't seem to be an appetite for the domestic league.
A serious drop in attendances at League of Ireland games began in the early 1970s as family trends changed and more people started playing junior football. There was a brief revival in the 1990s with a switch from the traditional Sunday afternoon kick-off to Friday night football, but that novelty soon wore off.
While the recent switch to summer football has improved the playing surfaces and helped clubs to compete in European competitions, the domestic league cannot compete with hurling and gaelic football for the hearts and minds of the locals during the summer months. However, Gavin remains upbeat and claims: "Nothing beats live football and I am confident that we can continue to attract more and more football fans to the live match day experience."
In reality, the chances of attendances – and therefore revenues increasing – are slim as fans continue to travel to England for big games…or even opt to watch the action on TV in one of the pubs where there is still enough money to pay the staff.
For more fascinating features, subscribe and save 30% and use the below link?