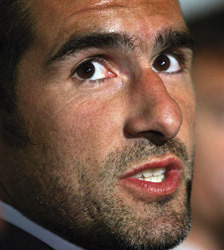 World Soccer: It's no secret that Shakhtar Donetsk pay big money to attract good foreign players – reports suggest you are on £2.8million a year. Was that the main reason for joining?
Cristiano Lucarelli: It's normal that money plays a part, but in my case I also had other reasons. I felt my time at Livorno was coming to an end. And I accepted the offer of the only club that made a concrete proposal.
You're the first Italian to move to Ukraine. Was the chance to be a trailblazer part of the attraction?
The main reason for my move was the fact Shakhtar were in the Champions League. But being a trailblazer was a factor, too; I've always tried to do things differently.
You were known for your loyalty to Livorno. How hard was it to finally say goodbye?
It's still hard, a strange feeling. The transfer hasn't sunk in yet.
What was your reaction to the response of some of the Livorno fans?
I'd have understood disappointment, but I can't excuse the anger that some showed towards me. I gave Livorno all I could and more in terms of love and devotion; maybe I didn't receive the same back.
Shakhtar president Rinat Akhmetov spent over £40m in the summer. Can such an outlay fast-track the club to the top? And do you feel pressure to be an instant success?
Shakhtar can make a major impact in Europe if they keep investing the money. As for myself, the pressure I feel isn't related to my wages but to my own character. I want to reach the top in everything I do. I'm not the only player who has been paid a lot of money; others have been paid even more.
What has been your initial impression of the standard of football in Ukraine?
They are certainly a step behind the Italian, French, English, Spanish and German leagues, but with the investment of various business tycoons, I believe the quality will improve, though it won't catch up with [western] European standards.
Ukraine has just two big clubs – Shakhtar and Dynamo Kyiv. Does that not create a barrier to improving standards?
Well, not exactly. There are three other strong teams now – Dnipro, Metalist and Metalurh Donetsk. They're growing at a fast rate, so the Ukrainian League is getting more interesting.
How have you been received in Ukraine? And has it been a culture shock for you?
I've been made very welcome. Leaving Livorno was a shock to the system, but I'm very happy in Donetsk. My family is not here so I feel a bit lonely sometimes. But I've been lucky enough to make some good friends, and the coaches are Italian and support me when I feel a bit down.
Were you surprised by your recent call-up to the Italian national team?
I was fairly surprised because in Italy it's said that those who play abroad have less chance of playing for the national team. However, if you look at my achievements it's not so surprising, because I've scored a lot of goals, and the fact I'm playing in the Champions League means I can be seen by everyone around Europe.
Do you think you were overlooked in the past because you played for a relatively small club?
Certainly, playing for a smaller club was not an advantage in international terms. But from an emotional viewpoint, I'd say my career has been fantastic because I played for the club that I love most.
The story goes that you were omitted from the national team because you celebrated a goal for the Under-21s in 1997 by revealing a Che Guevara T-shirt. Is that true?
I'd say I was penalised in general, not only in the national team.
Where does your admiration of Guevara come from? He seems an unlikely icon for a wealthy footballer.
The fact is that when I was a kid, I didn't know I'd become a wealthy footballer,
and I grew up in an environment inspired by Che Guevara. Now I'm a wealthy and famous footballer, it's a merit not a defect that I'm still faithful to my roots and my ideals.
Is it true that you once tried to organise a match between Livorno and Cuba, with the help of Guevara's daughter?
No. This is one of the many legends you can read about me.
Are you confident that Italy can qualify for the Euro 2008 finals and that, assuming they do, you will be part of the squad?
I'm always an optimist. I have another important target this year, the Champions League, but clearly being part of the Euro 2008 squad would be important.
You have been critical of football in your home country. What do you feel are the main problems?
One is violence. People haven't been taught to accept defeat. In English football, when a team are relegated, the fans actually applaud them. In Italy, you cannot even leave home. Winning at all costs and by all means – this is the big problem that Italian football has. However, things are improving, and I'm really pleased about it.
Can Italian football clean up its act?
It will be difficult, but it's worth doing.
Plenty of Italians have now played in England. You are 32 now; is it too late for you?
I don't think so. If I could play in London for at least one season that would be the icing on the cake. l