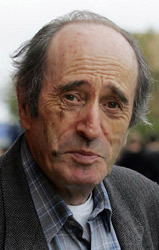 The Sunday Times story that Roman Abramovich is seeking to sell Chelsea and has had emissaries taking feelers in the Middle East, the Gulf States of course, but also Saudi Arabia, has prompted a furious response from the club.
Not a word of truth in it insists the chief executive Peter Kenyon; defamation proceedings against the newspaper are in hand. Defamation? Well, I must declare an interest, having been for 33 years football correspondent of the Sunday Times and still being attached to the paper; but where does defamation come in? Even if there were no basis to the story,
I cannot see that suggesting Abramovich wants to sell the club defames him in any way. He has a perfect right to do so or not, according to his wishes. Where is the moral issue involved here? He must obviously be deeply disappointed in the team's stuttering form this season.
Meanwhile there is a subsidiary question: did he or did he not walk out of the stadium a quarter of an hour before the end, when Chelsea were still a goal down to modest Stoke City? The Sunday Times said he did; the following day, the Daily Telegraph reported that he wasn't even there.
Despite some burbling and blathering by Match of the Day BBC experts who should have known better, I cannot see that Chelsea's laboured win against Stoke is in any way the start of a new era. They left it pathetically and desperately late against a team which just a few weeks ago I saw collapse 5-0 at Old Trafford against Manchester United. The goal they gave away was a fiasco; allowing a one paced opponent such as Rory Delap, famed above all for his colossal throw in, to go past two of his defenders as though he were Maradona, was the depths of defensive ineptitude.
Chelsea, we know, couldn't even equalise till 89 minutes had gone, then in injury time and only then came that well struck left footed winner from Frank Lampard. In midweek, they had hardly excelled when beating Southend United 4-1 in the FA Cup replay at Roots Hall, having so sensationally failed to beat them at The Bridge.
The opening Southend goal yet again showed Chelsea's vulnerability at set pieces. Only a glorious save by Peter Cech, when the defence had collapsed again, prevented a second Southend goal, and for all the technical mastery of Ballack's equaliser, it came about only because the Southend keeper had mindlessly rushed into his central defender.
It's rumoured that Abramovich may have lost £3 billion in the recent Russian credit crisis, though that still presumably leaves him with billions more. Kenyon insists that Abramovich is still happy to subsidise the club, though the fact that Chelsea have now seemingly been told there will be no transfer window buying, and odd rumours that the players have been deprived of certain comforts, suggest a tightening of belts and an end of open handed indulgence.
Who could blame Abramovich if this were true, though I still believe he must take a substantial share of the blame for the team's decline, for having ousted Jose Mourinho. Scolari may still be popular with his players, but I cannot see what he has brought the team this season and find some of his tactical announcements hard to understand. Having told us previously that the team was marking man to man – which surprised me – he said before the Stoke game that it would not combine man to man with zonal defence. I wondered how.
One game which Abramovich certainly did well to miss, though his absence was believed in some quarters to have been significant, was the 3-0 surrender to Manchester United. A vapid display which went far beyond any question of tactics and suggested low morale. Whose fault would that ever be?