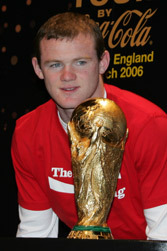 Doubts about Wayne Rooney's prospects of playing in the World Cup finals are growing with the news that he is suffering complications in his recovery from a broken metatarsal.
Doctors treating the injury believe he will not be fit in time and England coach Sven-Goran Eriksson has brought forward the striker's next scan to June 7 so, if there is further bad news, he will have time to include an additional striker at Rooney's expense.
The next scan on Wayne Rooney's broken foot will now take place on 7 June – a week earlier than originally planned.
Rooney, 20, had been due to fly to Germany with the rest of the England World Cup squad on 5 June, returning a week-and-a-half later for the scan.
However, it was decided at a meeting on Monday to bring that date forward.
The deadline for all countries to change their squad is 9 June, which means now they will have time to replace Rooney should the scan confirm that he will not be fit for the finals.
England manager Sven-Goran Eriksson said: "It is important the scan will be done before I have to give the list to Fifa on 9 June. After then I can't change it.
"We have to take the decision and we want to have the scan as close to that date as possible.
"To have had the scan on 14 June wouldn't mean anything. The request came from us but it is up to Manchester United (Rooney's club) and when they heard our reasons they were very helpful.
"We are happy United accepted the scan on the 7 June."
Jermain Defoe of Tottenham and Andy Johnson, set to move from Crystal Palace to Everton, are the strikers standing by to replace Rooney if he the next scan brings bad news.
But Eriksson added: "I have always been very optimistic and still think he will play a part in the World Cup."
"Rooney is a very special football player, one of the best in the world, but we sometimes forget we have another 22 players in the squad," Eriksson said.
"There is too much talk, writing about Rooney's foot. It was the same in 2002 about (David) Beckham's foot.
"So, until 7 June I will not talk more about Rooney's foot. It is a pity he is injured but I feel a bit guilty. We have 22 other players in the squad and the only talk is of Rooney. It is enough now."