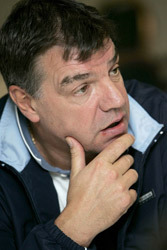 easyodds.com is the home of football betting. Click here for odds on every football match.
The Football Association has confirmed it will investigate "any possible breach of the rules" following a BBC Panorama film regarding the payment of bungs within the game.
Bolton manager Sam Allardyce is at the centre of the allegations of illegal payments although he has denied any wrongdoing.
The film showed two agents claiming they paid Allardyce in deals involving their clients.
"We are reviewing the programme carefully. We will make further comment in due course," said a statement issued by Bolton.
An FA spokesman said: "We have watched the programme with great interest and have asked the BBC if they will share the findings from their investigation with us.
"If we have evidence of possible breaches of rules and regulations we will of course investigate that."
Illicit payments
Agent Teni Yerima claimed that the Bolton manager had taken illicit payments in the course of his transfer activity.
Another agent, Peter Harrison, described offering to pay the Bolton manager's son Craig, who Panorama claim received secret payments from agents during three transfer deals.
Harrison denied the allegations.
"Have a good look at the programme and see where the bungs are: there aren't any," he said last night.
"There is no film, no evidence of them happening at all; no money changes hands. I've been in football for a lot of years and I've never had anything at all to do with bungs and I wouldn't want to."
Craig Allardyce said he was exaggerating his own role in an attempt to impress the undercover reporter. He has denied any wrongdoing in his dealings with Bolton.
However Allardyce revealed to the reporter that his father was aware of the payments.
"Yeah, course he knew, course he knew … I've never hidden anything," said the agent.
Portsmouth manager Harry Redknapp was secretly filmed discussing an illegal approach to buy the Blackburn defender Andy Todd.
Redknapp denies his conversation about Todd with agent Peter Harrison constituted "tapping up".
Redknapp's assistant at Portsmouth at the time, Kevin Bond, admitted he would consider discussing receiving payments.
However, both Redknapp and Bond have denied receiving bungs.
The documentary also showed Chelsea's director of youth football, Frank Arnesen, offering to give the youngster £150,000 over three years to try to induce him to Stamford Bridge..
The revelation is likely to lead to an investigation by the Premier League, which gave Chelsea a suspended three-point penalty last year for an illegal approach to Cole.
Eighteen managers allegedly involved
Panorama claimed 18 past and present Premiership managers had been named as having taken illegal payments, although only Redknapp and Alllardyce were named in the programme.
Sports minister Richard Caborn recommended the programme makers hand over their evidence to the Premier League's inquiry, headed by Lord Stevens, which is due to publish its interim findings into illegal payments in football on 2 October.
"The integrity of sport needs to be upheld and there are proper rules for managers and agents. These allegations damage the integrity of football and need to be looked at properly.
"The programme alleged they had names of 18 managers who had received illegal payments, and I think they should give all their findings over to the Lord Stevens inquiry.
"This reinforces what I have been trying to do to bring in greater regulation into football through the European Football Review."
And a Premier League statement echoed Caborn's view.
That statement said: "The Premier League have asked for the BBC to make their evidence available to the Stevens inquiry.
"The Premier League takes all allegations of this nature seriously, which is why we launched an inquiry into alleged irregular payments in transfers back in January of this year.
"As we have made clear any evidence from any source is welcomed. Indeed when the BBC initially approached us regarding Panorama's findings we requested they be submitted to Lord Stevens for investigation.
"We hope now the BBC has had the opportunity to broadcast that their documentary evidence and filming will be made available to Lord Stevens and his team.
"There are allegations concerning other potential breaches of industry rules in the programme that fall outside the terms of reference of Lord Stevens' inquiry.
"Again we request the BBC pass on their evidence in order that the FA and ourselves can examine all aspects of these allegations in order to determine the most appropriate course of action that each body should take."
easyodds.com is the home of football betting. Click here for odds on every football match.