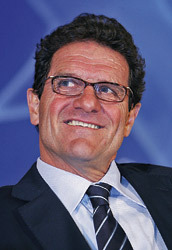 How would you sum up your first 12 months as England coach?
It's all been very positive. The team has started its 2010 World Cup qualifying campaign in fine form, mainly due to the five warm-up matches we played against Switzerland, France, the USA, Trinidad & Tobago and the Czech Republic. Those games were vital for me to get to know my players – as well as their strengths and weaknesses – and for me to teach them my football philosophy and my views on attitude and conduct. We are bonding as a group but there is still room for improvement.
In which areas?
We have to rediscover the fighting spirit that English football has always been famous for. More importantly though, we have to get over this absurd fear of playing at Wembley, where criticism from the crowd has often paralysed the team in recent years. I can remember the "lion's roar" of Wembley, but recently that roar has turned into boos and moans because of the team's disappointing performances and results. We will play more attractive football when we have more confidence.
Many fans are already demanding that England reach the semi-finals, at the very least, of the World Cup in South Africa…
I have never set myself targets like that because I am not someone who is happy with half measures. I always play to win, as I proved at Milan, Real Madrid, Roma and Juventus. I want my players to have the same ambition. I always want to achieve as much as possible, and the English have to get back to that mentality too.
So where have you identified problems?
Unfortunately only 40 per cent of the players in the Premier League are English. That means that I have a smaller pool of players at my disposal. But fortunately they are of excellent quality. It is just a shame that players like Jamie Carragher and Paul Scholes have retired from international duty. I could certainly have used their experience.
What differences have you noticed between Italian, Spanish and English football?
In Italy it is all about tactics and playing for a result, whereas in Spain the focus is on technique and pace. In England the game is based on aggression and non-stop action. You can see the biggest differences in the stands though. In England you will find passion and safety. In Spain it's a huge family party. But in Italy the ultras terrorise everyone and everything, and sometimes they even tell the politicians and club bosses what to do. The "organised tifosi" have far too much power. It's an Italian phenomenon. In Italy crowds try to stop away teams getting to the stadiums, so instead they have to be driven straight to the dressing rooms in their team bus while being verbally abused and pelted with whatever people can lay their hands on.
Why did Spain win Euro 2008?
In the past Spain used to play on their furia – their fury – but they have now rediscovered the beautiful game. The national team have benefited from the fact that virtually every club in Spain uses the same system, one that is based on possession, technique and quick passing movements. The Spanish play quick passes along the ground because they do not conform to the stereotype of the modern footballer – Carles Puyol, Xavi Hernandez, Andres Iniesta, David Silva and David Villa are not what you would call "supermen".
Winning the European Championship will have given this young team of players even more self-confidence, and this new generation is no longer divided by ancient regional rivalries and conflicts. Before the team was full of Castilians, Catalans and Basques, but now the players all feel Spanish.
So that's why the Football Association decided to employ a foreign coach?
Foreigners don't just make up 60 per cent of the players in the Premier League, the managers of the four leading clubs are also foreign. All four clubs have huge honours lists but England haven't won anything for nearly 50 years now. Nevertheless, it was important for me to have Ray Clemence and Stuart Pearce on my back-room staff, and I often have long discussions with Sir Trevor Brooking, the FA's technical director.
Why did you choose England?
It was a childhood dream of mine. For me, the English have always been the teachers
of our sport, the ones who took the game to the rest of the world. In 2000, Howard Wilkinson, who at the time was England's interim coach, asked me whether I would be interested in taking over, but in the end the FA chose Sven Goran Eriksson. It wouldn't have been the right time for me anyway, but now I am eager and determined to help England rediscover the spirit that they once had as the teachers of football.
How is your English coming along? When you first took over, the media said you used swear words to talk to the players.
To be able to train a team you have to know the football jargon of that particular country. My English is good now and I'll soon be fluent. Apart from Italian, I also speak Spanish well and I have a working knowledge of both French and German. I don't read any newspapers whatsoever, regardless of whether my team wins or loses. I talk on a daily basis only to my colleagues and not to the press or the TV, but I know that I have the respect of the English media. I do not believe being England coach is quite the "mission impossible" that it is always made out to be.
You have also ordered the English players to change their eating habits and some other routines…
That's true. I have, for example, impressed upon the players the advantages of a Mediterranean diet over ketchup and chips. I have also put some rules of conduct in place for when the national team meets up, from eating breakfast together to the use of mobile phones. The players have been very cooperative and that is a clear indication of the high level of professionalism at their clubs. Arsenal's academy, for example, is the perfect example of how young players should be brought along at all European clubs.
Are you enjoying life in London?
I love it. My wife and I live in a flat in Belgravia. My office is at FA headquarters in Soho Square but I can't wait until we move to Wembley, which will be our new home. I am also looking forward to the new national football centre in Burton in Staffordshire. There is also so much culture for me to explore in London.
My favourite places are the Barbican Centre, Sotheby's, the British Museum, the Tate Gallery and the Royal Albert Hall. There are also many excellent restaurants with cuisine from all around the world. There isn't exactly a shortage of golf courses for me to work on my new hobby either, and the weather is no worse than it is in Milan or Turin. I was born and brought up in Friuli, so I feel at home with a little bit of cold, rain and fog.
Interview by Sergio Di Cesare
(courtesy of FIFA magazine)
*This is an extract of the interview with Fabio Capello; the full interview is available in the April 2009 issue of World Soccer.