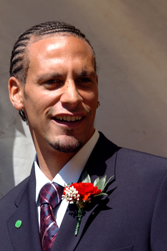 Manchester United defender Rio Ferdinand is relishing the propstect of a return to first team football after serving his 8 month ban for missing a drugs test last September.
Ferdinand is available to play again for the first time since 17 January when United face Liverpool at home on Monday.
"I cannot tell you how much I've been looking forward to this day.
"Whether or not I'm picked to play against Liverpool it is a big moment. I'm available for selection again," Ferdinand told The Sun newspaper.
"I'm not asking anyone to feel sorry for me. I'm just telling it as it was. I still feel I was unjustly treated but how long can you stay angry for?
"If I needed any help they have been keeping count for me.
"There is definitely a debt of honour to repay Sir Alex Ferguson and I intend to repay him by putting in top-class performances.
"I've been doing extra training and have probably worked harder than I did when I was playing because you are not keeping back energy for games.
"I have been training harder than ever so that when I do return, I can hit the ground running."
Ferdinand missed the FA Cup final and Euro 2004 as a result of the ban, which added to his sense of frustration.
"I was really angry for a few days after my appeal was turned down and it's driven me mad having to watch the team when I could be out there helping," he added.
"You kick every ball, see every pass, score with every shot. It is the most frustrating thing of all.
"I've trained with the lads every day, gone to sleep in the afternoons as I usually do, eaten all the right foods and done everything I normally do.
"I felt like my head was going to explode but I thought the best way to deal with it all was to keep on training, even though there might have seemed little point at the time."