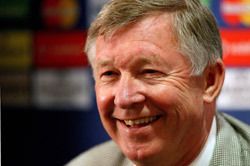 Help us with a Sport and Betting Survey! Click here to take part now.
Manchester United manager Sir Alex Ferguson believes Milan will win this season's Champions League.
Milan beat United in the semi-finals to set up a repeat of the 2005 final against Liverpool.
Ferguson told the Sun: "I'd bet for sure that Milan will win the Champions League. I'm absolutely certain of it.
"I told their manager Carlo Ancelotti at the end of our semi-final that there is no way he cannot win it now."
Ferguson plans to toast Milan's victory with a bottle of wine given to him by Ancelotti after his side had been defeated by Milan.
"Carlo gave me a magnificent bottle of wine," Ferguson added. "But I immediately told him I would only drink his wine once I see him lifting the Champions Cup."
The United boss admits his team were outplayed in the second leg of their semi-final, which Milan won 3-0.
"Milan's second-leg victory over us was stupendous, fantastic and extraordinary," Ferguson said.
"But I know we paid a high price for the Premiership fightback which we needed at Everton to turn a 2-0 scoreline into a 4-2 victory.
"Last week, Milan were fresher and better prepared tactically and physically.
"I'm still trying to analyse the factors involved. But the truth remains we faced one of the best performances in the history of AC Milan."
Help us with a Sport and Betting Survey! Click here to take part now.