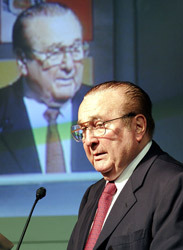 Before each bet make sure you visit easyodds.com to compare odds between bookmakers.
A leading Fifa official has been accused by Swiss magistrates of receiving bribes, according to a report in today's Guardian newspaper.
Nicolas Leoz, a Fifa executive committee member and president of Conmebol, is said to have been sent bribes totalling SFr211,625 (£90,000) in two separate payments in January and May 2000.
The money was paid by an entity linked to ISMM the marketing partner of Fifa, the collapse of which in 2001 almost bankrupted the organisation.
Prior to its bankruptcy, ISMM was responsible for the distribution of television rights for the 2002 and 2006 World Cups, excluding Europe and the US, on Fifa's behalf, while the related company ISL Worldwide looked after global distribution of marketing licences for the two competitions.
The legal document refers to payments made between 1999 and early 2001 from a Liechtenstein bank account in the name of Sunbow SA.
The document asserts that Sunbow was "100 per cent held by the Nunca foundation, which in turn can be characterised as a financial/commercial unit of ISMM AG".
Noting a figure of SFr18.2m (£7.75m) deployed for "payments for the acquisition of rights", the document states that these payments "are inducements (bribes) to third parties having a direct or indirect relationship to agreements negotiated by the ISMM group".
With regard to the payments made to Leoz, the investigators state: "qualification of these payments as bribes is based on the statements made by Jean-Marie Weber himself … and statements made by Hans-Peter Weber".
These two are former ISMM/ISL executives who were among six individuals being investigated by the Office of the Investigating Magistrate on charges including fraud, fraudulent bankruptcy and damage to creditors' interests by reduction of assets.
Another of the former ISMM executives under investigation, Christoph Malms, is quoted in the legal document as saying: "The payment of inducements to reputable personalities in sport for the promotion of sport policy and financial objectives originates from the 1970s, when sport became a financial driver.
"I was confronted with the fact that ISL had been engaging in such practices since the time of its foundation…"
"Upon my repeated urgings to suspend the payment of inducements, it was made clear to me by Jean-Marie Weber … that this practice had led to commitments which were still in place.
"The Nunca topic which you raise relates to accruals to personalities and decision-makers in world sport who were involved in the new acquisition or extension of worldwide marketing rights which were acquired by the ISL group."
Conmebol issued a response to the allegations made by The Guardian.
"Nicolás Leoz in 50 years has never had any problem of any kind," it said. "He is very surprised by your questions. Conmebol has never been in contact with the enterprises mentioned in these questions." Fifa said it was not served with a copy of the document and therefore could not comment.
The latest allegations come at an embarrassing time for Fifa. The organisation is currently investigating allegations made against Concacaf president Jack Warner, who has been accused of making money through the illegal sale of World Cup tickets.
Before each bet make sure you visit easyodds.com to compare odds between bookmakers.