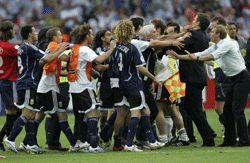 With the World Cup in full flow click here to see the latest odds on every match.
Fifa president Sepp Blatter has confirmed it will investigate the brawl which marred Germany's quarter-final victory over Argentina.
Punches and kicks were thrown between both sets of players and officials following Germany's penalty shoot-out success in Berlin.
Blatter told Five Live Sport: "I am furious about that and our disciplinary committee will monitor this incident.
"We will take some steps towards those who are identified as being the 'provocateurs' of this incident.
"There was really no need. After 120 minutes football is a drama, and then you have to go to penalty kicks and then football becomes a tragedy, but one is the winner and one is the loser.
"What I always say is in football you learn to win, but you also have to learn to lose."
Germany's Torsten Frings said of the incident: "They (Argentina) are bad losers. They lost their minds."
Argentina's unused substitute Leandro Cufre was shown a red card for kicking Germany's Per Mertesacker in an attack that is believed to have sparked the confrontation.
The German defender said: "They are no choirboys.
"One of their players attacked me even though I did not do anything. I have three or four red marks on my thigh and then he kicked me again in the groin."
Michael Ballack, the Germany captain, said that as each of Germany's penalty-takers walked to the box they were abused by Argentina's players waiting on the half-way line.
"The first provocation came from Argentina," said Ballack.
"They were shouting at our players as they were going to the penalty spot. They shouted something in Spanish and we didn't understand what they were saying. But they were definitely trying to influence our strikers.
"After Tim Borowski scored [to make it 4-2] he put his finger to his lips to tell them to shut up. They were a bit mad at that. After that I didn't see much but I saw one or two lying on the ground. I didn't see what happened."
Germany coach Jurgen Klinsmann said the initial blow was struck by Argentina.
"The emotional pop came from the Argentina side," Klinsmann said. "We can understand that with the game going to extra-time and penalties. I have no idea what really happened but I know that none of our players started anything, that's for sure.
"I saw Per Mertesacker lying on the floor but I did not see what happened and I haven't seen any images on TV at all. So I don't know what Fifa will investigate. But I'd like to remind people that there are so many emotions running when you go all the way down to a penalty shoot-out.
"It's easy to lose control for a second and maybe some words that were not the nicest were said. Things happen in football because it is so emotional but we have to forget about that. For us it is no problem, no big deal at all."
Argentina coach Jose Pekerman blamed the situation on "a flaring of emotion in the moment. Sometimes you get these spontaneous situations, things happen when there's a lot of tension."
With the World Cup in full flow click here to see the latest odds on every match.