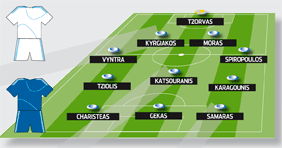 You can't teach an old dog new tricks, according to the saying, and the same must hold true for 71-year-old Greece coach Otto Rehhagel as he plans to continue to do what he does best — guard the goalposts.
The same defensive 4-3-3 system that tricked opponents in Euro 2004 and brought Greece its only international glory seems to be the only option for Rehhagel as he continues to look for strikers to produce much-needed goals.
As for offense — counterattacks will do, thank you.
But again, Rehhagel says if the opponents warrant a change in tactics, he will make that move.
Against Senegal in a recent friendly, Rehhagel used the 4-3-3 with Tzorvas at goal, Spyropoulos, Kyriakos, Moras and Vyntra on defense; Katsouranis in the center, Tziolis and Karagounis moving freely in midfield; and up front were Samaras at left, Charisteas at right and Kapetanos in the center.
The backs had orders to feed the wingers in order to help Samaras and Charisteas get the ball.
In the second half Rehhagel replaced Kapetanos with Gekas and Charisteas with Salpigidis, but all was in vain as the Greeks lost embarrassingly to the African squad 2-0 at home.
The defense failed and the offense was non-existent, but it should be mentioned that the Greek players had their mind on the important league matches coming up and failed to make an impression.
This will certainly, or at least will have to, change come World Cup.
It is certain that Rehhagel will have his well-drilled defense on solid ground once again, with veterans at midfield and strikers who have performed well with their clubs adding to the Greek attack.
A number of injuries have kept Rehhagel's plans changing as to who mans each position, but one thing is certain, he will again tell his players that the entire team defends and the entire team attacks.
Team – 4-3-3
Tzorvas; Spyropoulos, Kyriakos, Moras, Vyntra; Katsouranis, Tziolis, Karagounis; Charisteas, Gekas, Samaras.