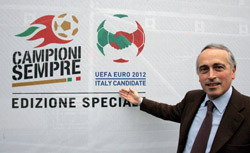 Compare football odds from over 25 bookmakers and claim £500+ in Free Bets. Click here for offer!
Italy believes its failure to win the rights to host the 2012 European Championship can be blamed on the troubles which have gripped the country in the last 12 months.
A match-fixing scandal afflicted Italian game and in February a policeman was killed in rioting before a Sicilian derby between Catania and Palermo.
And the trouble before and during the recent UEFA Champions League meeting between Roma and Manchester United further damaged the image of Italian football.
Uefa announced earlier today that a joint bid from Poland and Ukraine had won and the Italians felt they were always on the back foot in the race to host the competition.
"I'm not surprised this has happened," the president of the Italian Football League, Antonio Matarrese, told Italy's La7 television station.
"We are coming out of one of the most terrible tragedies in the history of Italian football," he added, referring to the death of police inspector Filippo Raciti.
"The fact we've lost this bid is not a catastrophe, but at this point we need to take stock and start reorganising."
Italy's Sports Minister Giovanna Melandri argued that the government's plan to reform Italian football would go ahead despite the setback.
"Uefa has made a political and a sporting choice, they've given a chance to two countries that have only recently entered into the European footballing family," she told La7.
"Of course I'm disappointed. I still believe the dossier we submitted was a good one, but now we need to congratulate the winners and push ahead with our own programme of reforms and rebuilding of Italian football.
"From the government's point of view, we always said that whether we won the Euro 2012 bid or not would not alter our intention to rebuild football by one centimetre.
"I still believe we need to change the existing model of public ownership of the stadiums that doesn't work and move towards private ownership," she said.
"The anti-violence plan that was made law earlier this month will enter its second phase soon with the training of stewards to ensure security inside the grounds."
Compare football odds from over 25 bookmakers and claim £500+ in Free Bets. Click here for offer!