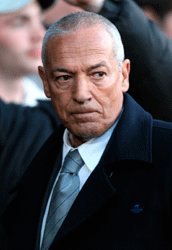 It's being billed as 'Survival Sunday' with Hull, Boro, Newcastle and Sunderland all hoping to avoid joining WBA as the relegated teams this season.
Despite leading his side to an third successive title success, Porto coach Jesualdo Ferreira is unsure whether he will be in charge next season.
Jesualdo Ferreira made history by becoming the first Portuguese manager to win the League three consecutive years, but curiously, as the season came to an end, the 63-year-old manager had yet to renew his contract with FC Porto.
Ferreira, a veteran who has managed 12 clubs in a career spanning 27 years, confirmed he had an offer on the table, but added nothing had yet been signed, with sources close to the manager alleging he was upset that an not extension had not been offered earlier in the season.
At first, it may seem strange that a proposal was not drafted sooner considering the success Ferreira has enjoyed at Porto, but upon further examination, it is understandable why the club had waited so long.
The truth is the football community in Portugal has never seen Ferreira as a master tactician, or a charismatic leader for that matter. Ever since his days as an assistant coach, and then manager of Benfica a decade earlier, he had been always seen as a student rather than a teacher. He was signed by Porto back in 2006 to stabilise a rocky ship following the stormy departure of Co Adriaanse, and at the time he was seen only as a temporary solution.
President Jorge Nuno Pinto da Costa was always expected to name a high profile manager for the long-term future. However, results went Ferrreira's way and after the first title, he signed a two-year extension to his contract at the Estadio do Dragao. As the victories and trophies continued to mount, there was never a reason to look elsewhere.
Now despite Ferreira's success, fans and commentators alike attributed it more to the Porto system than to the manager's work at the club. For years the Porto president has been the one calling the shots, and unless a coach oozes class (Artur Jorge in the 1980s) or charisma (Jose Mourinho), he rarely gets the respect or credit he deserves.
So in the last three years, when Porto won, they were expected to, and when they lost it was Ferreira's fault. The team's struggles in Europe where they were knocked out in the round of 16 in consecutive seasons, also hurt his reputation and clout. This year's performance against Manchester United, especially in the first leg at Old Trafford, may have finally been the argument that convinced the football community that Ferreira had, after all, merit in the team's success and had built a unit capable of challenging the best teams in Europe. It also convinced the Porto board that they had to offer their manager an improved deal and he was worth keeping at the club.
However, as the season neared its conclusion, the question was, would it be too little too late, with rumours intensifying that Paris Saint-German had made an offer for his services?
Ferreira himself saw this moment as a chance to bask in his glory, stating, "when you win, it's normal that other teams want you."
Now that Porto wanted him though, he was expected to stay. After all, he got what he had always wanted, the respect and admiration of his peers in Portugal.
It's being billed as 'Survival Sunday' with Hull, Boro, Newcastle and Sunderland all hoping to avoid joining WBA as the relegated teams this season.
For more fascinating features, subscribe and save 30% and use the below link?