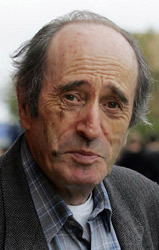 As one World Cup manager bites the dust, none has been so ruthlessly punished as the hapless North Korea coach, Kim Jong-Hun.
Thrashed 7-0 by Portugal – the country whom in their only other appearance in the finals in 1966 they shocked with a 3-0 lead which didn't last – Kim was victimised. As only that repugnant, populace-starving, dictatorship knows how horribly to do. For six whole hours the poor fellow was subjected to six whole hours of orchestrated abuse. By 400 students, officials and athletes. After which he was not only deprived of his job but sentenced to work without pay on a building site.
So what will FIFA do? Surely they now have to act, since their rules specifically forbid interference by governments in the affairs of the local football federation. They have already slapped down very properly a fatuous ban imposed by one African federation. Not that they could expect anything but sullen denial from the North Koreans. Which would automatically lead to their being thrown out of FIFA.
Sad for a team which whatever its debacle against Portugal had been the first from that nation to reach the World Cup finals since 1966 but which had put up a spirited show against much fancied Brazil in their first game when they lost only 2-1, their late goal cleverly set up by the burly striker, Jon Tae-se. At least he should be all right. Previously playing in Japan he is now due to join Bochum in the Bundesliga.
Hard to make out what that talented and intellectual fellow Gerard Houllier really means, when talking about the unlamented Raymond Domenech. The French manager who rounded off a disastrous experience by sullenly refusing to shake hands with the South African manager, Carlos Alberto Parreira, at the end of France's last, disastrous game.
In an interview with a London paper, Houllier was specifically quoted as saying that as a member of the French hierarchy, he like the President of the Federation Pierre Escalettes was in favour of Domenech keeping his job despite the fiasco of France's participation in the last European finals, in 2008. Domenech, Houllier surprisingly said, was liked by the players and besides there was nobody else to go to. Yet when soon afterwards he was interviewed by L'Equipe, the bible of French football, he told a very different tale.
Unlike Escalettes, he insisted, he had wanted to be rid of Domenech fully three months before the World Cup began, but he was overruled. I have known Houllier for many years and have long and great respect for his knowledge and experience not to mention his flawless English; before he became a soccer coach, he spent time teaching in a Liverpool school. And no, he didn't acquire the authentic Scouse accent.
Domenech had, he said in L'Equipe, lost the dressing room. So how does that square with his being "liked" by the players? I give up. What we do know is that before a ball was even kicked by the French team Domenech had fallen out with the Chelsea winger Florent Malouda and dropped him from the opening game against Uruguay. Only to bring him on as a substitute. And we also know that he was grossly insulted by Nicolas Anelka at half time in the game versus Mexico, when he asked Anelka to play central. Anelka proceeded to sue L'Equipe, ever in the spotlight, insisting that though he had abused Domenech, he hadn't used the obscenities the paper attributed to him.
Maradona went as well of course and he certainly didn't go quietly. After Argentina's thrashing 4-0 by a German team which ruthlessly exploited their tactical weaknesses. Maradona's position was in the balance. With typical arrogance, he placed the boot – not the Hand of God – firmly on the other foot, insisting that he would stay only if his whole coaching team, especially that that once rugged defender Oscar Ruggeri, could stay with him. To his surprise, he found himself shown the door; it seemed that even the ever-indulgent President of the Argentine Federation Julio Grondona couldn't save him.
Quite why Grondona ever appointed him in the first place, with his minimal experience as a club manager, was baffling. As was the fact that he kept his job after that humiliating fiasco on the dizzy heights of La Paz, when humble Bolivia beat an ill prepared Argentina 6-1. Then, when a narrow win in Montevideo in the final group game against Uruguay narrowly qualified his team for the finals, Maradona foully abused the Argentine press corps.
Dunga of Brazil has gone too, un-mourned by the Brazilian media. Who accused him of excessive caution. But were not such managers as Claudio Coutinho and Carlos Alberto Parreira, essentially physical training experts, and never a star player, as Dunga was, still more "anti-Brazilian" in their supposedly "European" methods?