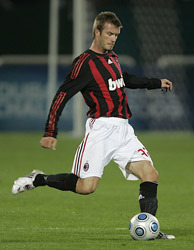 A crucial game in deciding next season's Champion League qualifiers as third-place Aston Villa host fourth-place Chelsea this Saturday lunchtime.
Los Angeles Galaxy have ridiculed claims from Milan that they are close to signing David Beckham.
Tim Leiweke, the chief executive of Galaxy's owners AEG, told Gazzetta dello Sport that claims from Milan vice-president Adriano Galliani the previous day that the two sides were close to a deal were 'nonsense'.
"Two weeks ago Milan made a ridiculous offer that took me just a few seconds to reject," he said of the reported $3 million bid.
"With this figure Galaxy wouldn't even be able to cover the loss in revenue from shirt sales.
"Since then I haven't heard a thing and no meeting has been set up."
Leiweke revealed he is growing increasingly irritated by Milan's behaviour in a transfer saga which originally was a simple loan deal, due to end on March 9.
"I've decided to speak out because I've read too many inaccuracies," added Leiweke. "After that ridiculous offer we've had no more contact from Milan.
"They've gone after other people from the League's commissioner to David's representatives, but not us."
One thing is clear, though, that the 33-year-old former England captain wants to stay in Italy.
"I've said I want to stay here and obviously if I do go back it will be a bit difficult," Beckham said following Sunday's Milan derby.
"But I'm always professional so we will have to wait and see when the final decision is made.
"I hope things go the way I want them to. I've already said that I want to stay, I'm enjoying my time here and hopefully I will (stay)."
But although the former England captain has made his desire clear, Leiweke denied this strengthened Milan's position.
"They don't understand that behind this affair there are fans who are threatening to give up their season tickets, there's TV that needs to schedule which matches they will screen, sponsors who want compensation and other teams that have the right to know if Galaxy will play in their stadium with or without Beckham," he said.
"And don't forget that under normal circumstances our transfer window is closed. If David doesn't come back, who are we going to replace him with?
"If Milan are so determined to buy him, why are they dragging this out for so long?
"If they think they'll get him on the cheap that way, they're wrong."
Leiweke remains confident that Beckham would give his all if he was forced to return to LA Galaxy.
"Let's get things clear, David is an incredible professional and I'm happy, as much for him as for Milan, that his Italian experience is going so well," added the AEG boss.
"David is a friend and he asked me to consider what Milan were proposing.
"I said yes because I want him to be happy. But I'm not about to be screwed over and hence on March 9 Beckham will be in Los Angeles and will be working with the same serenity and application as before.
"And he knows he doesn't have any other option because his first chance to break his contract comes at the end of 2009."
A crucial game in deciding next season's Champion League qualifiers as third-place Aston Villa host fourth-place Chelsea this Saturday lunchtime.