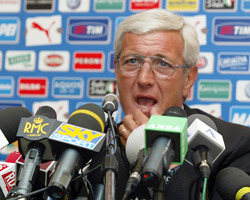 Marcello Lippi has rejected calls from within the Italian mdeia for him to stand down from his position as coach of the national team.
There has been a number of calls for Lippi to resign as Azzurri boss after he was implicated in the match-fixing scandal sweeping through Italian football.
Lippi has spoken to investigators after it was alleged that he was asked to pick certain players for the national squad.
The former Juventus coach has denied any wrongdoing and sees no reason why he should not be at the helm for Italy's World Cup campaign.
"A person resigns when he has a dirty conscience or when he's annoyed, even if he has a clean conscience because he feels mistrust around him," said Lippi.
"Here, I feel everyone's faith and I know the job I did has been appreciated.
"The phone calls I got from different clubs' officials haven't been pressures, but only the symptom of a serious, and with a big collaboration, feeling with the same clubs.
"From today we start working and thinking of the technical things. I start preparing a team in which I have a big faith to do good things.
"We have no signals to send. We will send the only message from the pitch. This team will do big performances. Then where we will finish, I don't know. The group is serene."
Italian Football Federation commissioner Guido Rossi had earlier confirmed that Lippi would not be replaced before the World Cup finals.
"I've been really pleased by the words with which they have showed esteem and faith in me after the recent polemics in which I've been involved," Lippi added.
"This is the most important thing.
"I'm sorry about the reaction of a certain part of the press against me and for the fact of not being believed with reference to what I said about Italian football in these last days.
"I'm happy and I come back with a big will, determination and enthusiasm."