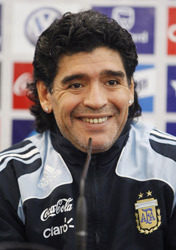 UEFA Cup – Braga v Psg, click here for BestPrice odds!
Argentina coach Diego Maradona has spoken of his sadness after Boca Juniors fans branded him a traitor.
Boca supporters turned on their former hero after his recent fall-out with Juan Roman Riquelme.
Riquelme recently quit the Argentina side, blaming Maradona for his decision. This led to uproar at La Bombonera as Boca fans jeered the legendary striker.
"It hurt me in the soul that they have branded me a traitor but I can't do anything about it," Maradona told Radio Mitre.
"I don't blame the supporters, they have the right to support whoever they want.
"I can't do absolutely anything about it apart from continuing on my way.
"I've explained that I wanted Riquelme in my team but they have seen it the way they choose to see it."
Maradona is still a big fan of Boca, and he admits he will not let the recent hostility keep him away from the stadium.
"Of course, I'll return. The last thing I would do in my life would be to get angry with the Boca public," he added.
UEFA Cup – Braga v Psg, click here for BestPrice odds!
For more fascinating features, subscribe and save 30% and use the below link?