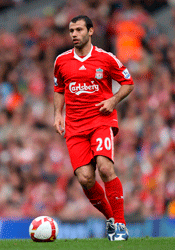 Arsenal v Liverpool is the standout fourth round Carling Cup fixture but for the full draw and BP odds click here.
Javier Mascherano has leapt to the manager Rafael Benitez's defence by demanding that Liverpool's players take responsibility for the club's current crisis.
The home Champions League defeat by Lyon on Tuesday was Liverpool's fourth in a row and their sixth defeat in all competitions this season, but midfielder Mascherano puts the blame firmly on the players.
"It is easy for everyone to blame the manager and not the players," Mascherano said. "But the truth is that it is us out there on the pitch, the players. If we play badly it is not the manager's fault, it is ours and we must take the responsibility.
"The manager can tell us how to play but on the pitch it is down to the players. We need to keep going and to work harder. I do not believe that Sunday's league game with Manchester United will decide our season, but it is too early to say that. But for our confidence a win will be a massive boost.
"If we win on Sunday it will be a totally different Monday. We are not thinking about losing to United, we have done it before – twice last season – and we must do that again.
"We always seem to make it hard for ourselves in Europe," Mascherano said. "Now we have to win the last three games in the group. But we have done that before, we just have to do it again.
"We need to remember that. We can still qualify. People have said before that Liverpool are out after results like the one against Lyon, but we have hit back before and qualified, we can do it again.It is a must-win game now next in Lyon in a fortnight, a very important game for us.
"After the game the boss didn't talk too much, everyone was so disappointed. But we do need to review all the mistakes that we made, it is the players that made mistakes not the manager, so we must make sure we do not do the same things against United.
"It is a difficult situation, we have lost four in a row. But do not forget this a team who last season were doing very well, we must keep going and working. The team is not playing well, and a lot of players are not in the best form and we are losing confidence."
Arsenal v Liverpool is the standout fourth round Carling Cup fixture but for the full draw and BP odds click here.
For more fascinating features, subscribe and save 30% and use the below link?