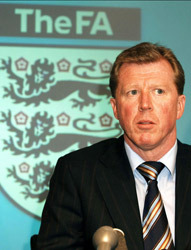 Middlesbrough chairman Steve Gibson has hit out at Arsenal vice-chairman David Dein over his role in Steve McClare's appointment as England manager.
Dein sits on the Football Association board and Gibson thinks there was a conflict of interest with the Arsenal man ensuring his club manager Arsene Wenger was not on the the shortlist for the job.
"How someone like David Dein can be kingmaker, I don't know," Gibson said.
"The FA is there for the good of English football, but was Arsene Wenger interviewed? Why was he protected?"
FA chief executive Brian Barwick claimed Wenger had been spoken to but chose to stay at Arsenal.
Portugal's Brazilian manager Luiz Felipe Scolari – reportedly Dein's first choice – was the leading candidate before McClaren was appointed on Thursday.
"How many England internationals are there from Arsenal? And yet he presents us with a Brazilian living and working in Portugal," Gibson added.
The Middlesbrough chairman is also unhappy with the nature of McClaren's appointment.
"It has taken so long," he added. "Has it damaged our football club? Definitely.
"If he hadn't got the job, I couldn't actually replace him. So how do I recruit?
"The process was far too long and I don't quite understand whether the process is right.
"I think the structure of the FA makes their life difficult. I think there are some great individuals – and I would not want to be critical of them – but I would be critical of the structure.
"Whether they change it is for them to decide. They have a good man in Brian Barwick and good men at the top, but they have to be more professional.
"The Premier League is a great model. It is efficient, well run by individuals such as the chief executive, and the FA has to become that and they have to be ruthless in their pursuit of it.
"But will it happen? I don't know."
Despite his reservations about the selection procedure, Gibson believes his manager will be a success with the national team.
"I am disappointed to be losing him, but this was his first job in management so this club has contributed to the England cause and I am very happy for Steve and for us.
"He has a lot of talent in given areas and is a very intelligent guy, he will learn very quickly and I believe he was the outstanding candidate.
"It is a huge compliment to the club because it shows in the last five years we have moved forward.
"One individual cannot move a club as far as we have moved, and Steve would admit that he has a great team around him."
McClaren has agreed a four-year deal with the FA, starting on 1 August.
Subscribe to World Soccer – The essential football magazine.