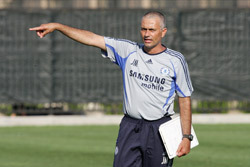 Chelsea manager Jose Mourinho believes Arsenal and Manchester United will provide the biggest threat to his team next season, but he was dismissive of Liverpool's prospects.
Chelsea captain John Terry had named Liverpool as the team he expected to run the Premiership champions close in the forthcoming campaign, but Mourinho remains unconvinced.
"I still believe United and Arsenal will be the biggest threat," said Mourinho. "They will be the better teams.
"I say that because of the quality of their football, the way they play, the improvements in their squads."
However, while acknowledging Liverpool's competitiveness, Mourinho said he did not regard them as viable title contenders.
"Liverpool are different. They are very competitive, it's very difficult to beat them," he said.
"If they score a goal before you score it's very difficult to change it because they defend really well with 11 players very, very compact.
"They are tactically very good and they are potentially fighting for the front pack but I still fancy more the way Manchester United and Arsenal play football."
Mourinho admitted he was impressed by the summer signings of both Arsenal and United.
"United will improve a lot by having Michael Carrick. He's a very, very good player and he will improve them," said the Chelsea manager.
"Arsenal have a very good group of players, and some young players with great motivation.
"Tomas Rosicky is also a very important player for them and can bring them the kind of quality – I don't want to compare him to Dennis Bergkamp because he was more than special – but Rosicky can bring that kind of quality to the left side."