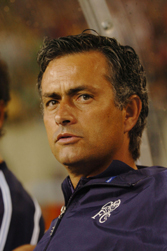 Chelsea boss Jose Mourinho will not be charged over the comments he made after their Carling Cup tie with Manchester United.
Mourinho stated that United boss Sir Alex Ferguson had influenced referee Neale Barry when teh pair spoke in the tunnel at half-time.
But an FA spokesman told BBC Sport: "We are not taking action over Mourinho.
"We have looked at the comments and we have decided that no further action is required. That is the end of it."
Mourinho claimed that Barry's performance after the break was influenced by his brief chat with Ferguson in the interval.
"I see one referee in the first half and another in the second," said Mourinho.
"If the FA ask me what happened, I will tell them. What I saw and felt made it easier to understand a few things," said the Chelsea manager.
"Maybe when I turn 60 and have been managing in the same league for 20 years and have the respect of everybody I will have the power to speak to people and make them tremble a little bit.
"The referee controlled the game in one way during the first half but in the second they had dozens of free-kicks. It was fault after fault, dive after dive.
"But I know the referee did not walk to the dressing rooms alone at half-time. He should only have had his two assistants and the fourth official with him, but there was also someone else."
Referees chief Keith Hackett believes Mourinho should withdraw his remarks.
"I'm hoping he might reconsider his comments, unfortunately this is the nature of the game," said Hackett.
"I don't want referees or myself getting in the psychological warfare between two managers. For the second leg we have an experienced referee, and we should be talking about the quality of that game rather than the refereeing.
"Sometimes managers have grounds for comments, and I note that, but a referees integrity has been questioned, that is offensive and should be avoided. Mr Mourinho should look at the facts."