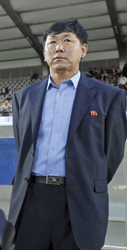 World Soccer: What does it mean to North Korea to qualify for the World Cup?
Kim Jong-Hun: It is the first time we have qualified for the World Cup
in 44 years, since playing in England in 1966. It is a great honour to qualify again.
What was the reaction in Pyongyang?
Everyone was on the streets and welcomed us home. All the people were happy. It was a great day and it means a lot to the people of North Korea to be playing at the World Cup.
How do you think you will do? Can you surprise the world the way you did in 1966?
Well, 1966 seems a long time ago now. All we know is that we have to improve and that is something we will work hard to do. We will make sure we prepare as best as we can by playing games against difficult opponents from Africa
and South America.
How much support does the team receive from [president] Kim Jong-il?
Kim Jong-il has given us so much support. He's the leader of our country and when he can, he comes to watch us play and always backs us. We could not have qualified for the World Cup without his support.