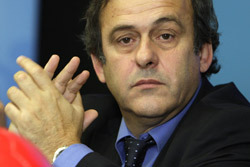 Premier League leaders Man Utd play their game in-hand this Wednesday as Fulham make the trip to Old Trafford.
UEFA president Michel Platini has told the European Parliament that unless his plan of capping transfer and wage spending was adopted, the European game could "financially implode".
The UEFA President's comments will further widen the growing split with Europe's leading clubs over the issue.
Earlier this month, the European Club Association which represents 137 leading teams such as Manchester United and Real Madrid, said it opposed the introduction of salary caps.
But the head of European football's governing body said if action were not taken, the game in Europe was "in danger" of enduring the worst financial crisis in nearly 80 years.
"European clubs are currently telling us that our system is in danger of financially imploding in the medium term…" Platini said in a speech at the European Parliament in Brussels.
"We are currently looking at the idea of limiting, to a certain degree, a club's expenditure on staff—salary and transfer fees combined—to an as yet undecided percentage of its direct and indirect sporting revenue."
According to Reuters, under Platini's plans, clubs would be allowed spend somewhere between 46 and 63 percent of their revenue on wages and buying players.
But revenue would be determined as money received only from ticket sales, sponsorship, merchandise and television income. It would exclude financial investment by owners or major shareholders.
"For the past 15 or 20 years, we have grown tired of hearing that there is no need to regulate, that the market regulates itself perfectly, that excesses and imbalances will disappear of their own accord," Platini said.
"We now know that none of this is true. In football as in the economy in general, the market is incapable of correcting its own excesses, and it was not the UEFA President who said so, it was Barack Obama."
Platini said sports in the United States "have coped with the financial crisis better" and Europe could learn lessons from U.S. sports regulators.
"Our American friends have known for decades that sports competitions are only attractive if they are well balanced and if no one team possesses the ultimate weapon," he said.
"Over the decades, they have introduced countless measures designed to maintain this competitive balance, sporting measures combined with financial regulations that ensure the clubs are properly managed.
"The American sports system can certainly give us food for thought. It is completely different from the European model of sport in a number of fundamental ways. There are nevertheless some lessons that we can learn," Platini added.
Platini's move was prompted by a steep increase in the cost of buying players – highlighted by Manchester City's failed bid for Milan's Kaka reported by British media to be €110 million – combined with huge salaries.
"Is it morally acceptable to offer such sums of money for a single player?" Platini said.
World body FIFA, UEFA and the European Union have also expressed concern over the influx of money from billionaire owners from outside Europe who have recently taken large stakes in clubs, particularly in England.
Platini said he opposed any regulation from Brussels.
Any new UEFA rules would only immediately affect clubs participating in its competitions such as the Champions League and UEFA Cup.
"I believe that it is reasonable that UEFA should be able to decide independently under what conditions clubs may participate in the competitions that it organises," Platini said.
"Of course, we will not impose any kind of diktat. That has never been and never will be how I work."
Premier League leaders Man Utd play their game in-hand this Wednesday as Fulham make the trip to Old Trafford.