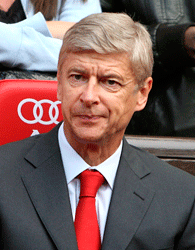 Everton are unbeaten in the Europa League and now the in-form Toffees head to Belarus to take on BATE. Get all the best prices here.
Arsene Wenger, who today becomes the longest serving manager in Arsenal's history, has saluted the club's decision to appoint him.
Wenger, appointed in 1996, broke George Allison's record of 4,748 days at the helm – from June, 1934, to May, 1947.
"Yes, it was a big gamble," he said. "When I think retrospectively, that is the biggest surprise to me. At that time what Arsenal did you needed to be a little bit crazy. Crazy in the sense that I had no name, I was foreign, there was no history. They needed to be brave.
"First I had to convince people I had the needed quality to do the job. I am still trying to do that. It has not changed. It is difficult to put into context today because when every foreign manager comes in, it is the red carpet for him.
"But it was not like that when I arrived. There was a history and belief in England that the foreign manager could not be successful. Now you have a different feeling. Now you think only foreign managers can be successful and that is wrong as well.
"I believe I contributed to the change in attitude about foreign managers. That can look pretentious but I don't think it is at all. I can show some articles where people tried to prove that the foreign managers can never win an English championship. That has changed and I have certainly contributed to that.
"But I am also one of the few who defends English managers. I was lucky to find at Arsenal the support I found and that is important for success. I have stayed at Arsenal for all different reasons since but that is one of them."
David Dein, former vice-chairman of the Gunners and the man responsible for bringing Wenger to the club, hailed the French boss.
"His legacy will be that he has transformed Arsenal Football Club," Dein told Sky Sports News. "He has taken it to a completely new level but the style of football has been so entertaining.
"He changed their diet, training habits – he changed their lives. When you consider in his first full season he won the double, that is a remarkable achievement.
"He can talk about a dozen things apart from football. He has studied medicine, which is why he knows about the anatomy of the body, which is why he knows about injuries, he studied economics – he can read a balance sheet, which is unusual."
Arsenal managing director Ken Friar insists that the club will always be indebted to Wenger.
"He is so special in so many ways," Friar said. "He is even-tempered and probably the best man-manager I have come across. He is a thinker – he doesn't get excited when we get a bad defeat, everything about him has got success written all over him. He is a man that instils confidence in everyone.
"There is a place here for him always and we will be very sad when he decides to hang up his boots."
Everton are unbeaten in the Europa League and now the in-form Toffees head to Belarus to take on BATE. Get all the best prices here.
For more fascinating features, subscribe and save 30% and use the below link?