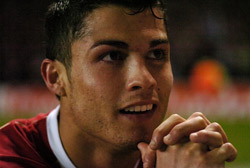 Compare football odds from over 25 bookmakers and claim £500+ in Free Bets. Click here for offer!
Cristiano Ronaldo has 'completely ruled out' a summer move to Real Madrid from Manchester United.
The Portuguese winger is currently in talks to sign an improved new contract to stay at Old Trafford until 2012.
However there has been constant speculation in recent months about a bid from either Real Madrid or Barcelona in the summer, with the Real president Roman Calderon admitting earlier in the week: "We really like him but he belongs to Manchester United and they have to decide to sell him first.
"If that is the case then we'll be first in the queue."
The new terms are a reward for Ronaldo's stunning form this season, which has seen him top the club's goalscoring charts and play a key role in the team's push for honours.
United's fitness coach Walter Di Salvo, though, is confident that United have persuaded Ronaldo to sign a new deal.
Di Salvo is quoted in The Sun: "United have his new contract ready with important figures and it's impossible that he'll leave.
"A move to Real Madrid is completely ruled out."
Real confident of getting their man
Meanwhile, Real's sporting director Predrag Mijatovic is adamant that Ronaldo as well as Milan playmaker Kaka will one day both join the club.
"Who would not like to buy those two players?" Mijatovic opined in Marca.
"Any team in the world would want them – but it is necessary to make good planning.
"They are two fantastic players who would surely do very well here, but they have contracts and they do not have release clauses.
"We know that much depends on the will of the players and the clubs they play for.
"One would try and negotiate for them both as they would no doubt help us reach our objectives, but it would take much negotiation to bring them.
"Several times he [Ronaldo] has said that Madrid is a great club and he would someday like to play here, but that is not only him but any player in the world," he said.
"If he [Ronaldo] wants to join Madrid and if Manchester [United] lets him leave, it would happen that same morning.
"If Manchester let him move, if he wants it, then it happens as we already know we want him."
Mijatovic was similarly confident over Kaka, adding: "He plays in a team that does not want to let him go.
"This year is difficult [to sign him] and next year also, but I believe that Kaka, sooner than later, as with Cristiano Ronaldo, will end up playing in Real Madrid, because this is the most important club in the world and any player would come."
Compare football odds from over 25 bookmakers and claim £500+ in Free Bets. Click here for offer!