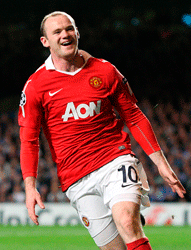 Man United are now a best price 13/8 to win the Champions League after their comfortable 2-0 win over Schalke…
Wayne Rooney has reiterated his commitment to Manchester United and admitted that he made a mistake in submitting a transfer request.
The striker looked to be on his way out of Old Trafford after confirming in October he wanted to leave the club. However, within days, Rooney performed a U-turn and signed a lucrative new deal with United.
After impressing with his performances during the second half of the season Rooney has admitted he is motivated by a desire to make amends.
"Obviously it's been a lot different in the second half of the season compared to the first," said Rooney.
"I am a lot happier in my life and happier with the way I'm playing, it's like settling down again. I've done that.
"I'm very grateful to the fans for supporting me through it and I'm delighted with my form again.
"I hope I am proving myself through my performances. Obviously I understand I made a mistake.
"When I look at it now, how wrong was I? I admitted that and I apologised for that and I have wanted to try and prove myself again to the Manchester United fans. I feel I am doing that now.
"It was along time ago now and hopefully I am helping this team be successful.
"Now it would be a great end to the season with a Champions League Final and win the league.
"I am 100 per cent committed to this club. We are one step closer to the final and in a strong position in the league."
Man United are now a best price 13/8 to win the Champions League after their comfortable 2-0 win over Schalke…