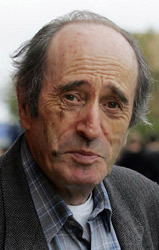 The European Championship finals were a fascinating source of paradox, surprise and anticlimax.
The case of Russia's Andrei Arshavin was a special one. Banned from Russia's first two games having been suspended for kicking an Andorran opponent – in a game where the Russians scraped through shamefully, 1-0 – he had given glittering evidence of his influence and talents in his club Zenit's crushing of Rangers in the UEFA Cup Final in Manchester. Against Sweden, in the Euros, he was outstanding. Against Holland, in the next game, he was phenomenal. Twice in extra time his brilliance on the ball, his daring initiative, brought vital goals for Russia. In the first instance he cut in from the left, almost casually outwitted the defence, and crossed for the first Russian goal. On the second occasion, he surged in from the right, again baffling the defence, finishing with a shot which was deflected past the Dutch keeper, Edwin Van Der Sar.
So we awaited with confidence and enthusiasm his display in the semi-final against Spain. And what did we get? Virtually nothing. Andrei was no longer the sparkling inspiration of his team, but an almost invisible nonentity. Why? How to explain the abysmal drop in form? Yes, he often had to come up against the forceful Senna, used by Spain as defensive central midfield, but it was not as if Senna was marking him man to man, breathing down his neck, circumstances in which even the greatest players fail to function. I remember the incomparable Stanley Matthews vividly complaining to me long ago that it was difficult to play against such a defender, "when you know what he's had for breakfast."
I doubt whether Arshavin knew what Senna had had for lunch or tea. The gloomy fact is that he looked demoralised. What went wrong was plainly in the head or the heart. It did not seem to deter Barcelona, for which he said he would like to play, or Chelsea in their reported pursuit of him. But perhaps his failure against Spain cast a little light on the fact that his breakthrough in major football has come at the relatively advanced age of 27. Meanwhile, we, like the Russians at large, live with our disappointment.
*********************
Colin Karim Richards would not pretend to have the glittering talents of Arshavin, yet his coruscating show for Turkey against Germany was surely one of the wonders of the competition.
A player who in England had come up very slowly, the hard way – though to be fair, he is still only 21 – who would probably not have been playing at all had Turkey not been down to the bare bones through injuries and suspensions, Richards proceeded to run Philippe Lahm, Germany's till then highly rated left back, ragged. Twice Karim hit the German bar, on the second occasion provoking a Turkish goal. And he may well have had a point when he declared that when Lahm largely redeemed a poor defensive performance (things would get even worse in the Final) by overlapping, exchanging a one two, and scoring, he himself might have prevented it. Instead, injured, Karim was lying on the ground and out of the game. Germany, he felt, should have put the ball out so that he could have treatment. Had he not been hurt, he felt he could have stopped Lahm's run. Now it has to be said in the defence of Lahm and the Germans that there is no law which obliged a team to put the ball out in such circumstances; it is a custom rather than a rule. One in fact which appears to have been officially discouraged. But Karim had a point.
A Londoner from Walthamstow, son of an Englishman and a Turkish-Cypriot mother, initially drifting around the lower reaches of the English game with Bury then with Brighton. Brought into greater prominence, with Sheffield United, so much so that the leading Istanbul club, Fenerbahce, brought him to Turkey. What he achieved in that semi final was worthy of the finest wingers. A role which, one is happy to say, was vigorously filled in several different teams.
*********************
Once again, at a major tournament, we had the hypocrisy, the fiasco, of teams and coaches lining up before the concluding games to make solemn affirmations to Kick Out Racism. 'Tis a consummation devoutly to be wished, as a certain Dane would have it, but flatulent affirmations are not the way to do it. Not least when manifest hypocrisy is involved.
All credit to the volatile old Luis Aragones for bringing Spain so triumphantly off the canvas, after that humiliating defeat in Belfast. But it was alas Luis who once tried to encourage his young winger Jose Anton Reyes by saying of Thierry Henry, "You don't have to take any notice of that black sh**t." For which he was fined £2,000 plus by the Spanish Federation, only for the penalty inexplicably to be knocked down in a Spanish court.
Then there was the subsequent vicious abuse of two black England players at the Bernabeu by the notorious Real Madrid ultras on the occasion of a Spain v England game. A large fine was imposed on the Spanish Federation when it would have been far more appropriate to close the Bernabeu indefinitely to international games. But there was Luis, standing on the pitch when his Spanish players swore to kick out racism. Just as two years earlier Oleg Blokhin had done when his Ukrainians had to swear their commitment to the cause. That same Blokhim who some weeks earlier had made a violent public attack on black players who he asserted were undermining Ukrainian football.
Time and again English teams go into the Balkans where their black players are viciously jeered. At least at the Euros the bigoted Croatian fans caused their national federation to pay a heavy fine after their abuse of Turkish players. But if and when it happens again in Croatia, stadia should be closed. Meanwhile, as the first of all English soccer columnists to come out strongly against racism, getting a neo-Nazi death threat for my pains, there are one or two repugnant self publicising Kick Out Racism figures whom I'd willingly kick out myself. With the clearest of consciences.
*********************
Well, well, well. Sepp Blatter has at least admitted that FIFA have a Plan B about playing the next World Cup in South Africa although he assured us that only a "catastrophe" could bring it about.
With horrid inexorability, news came through of the hyperbolic rise in the rate of murders in that benighted country, not to mention rape and the ravaging spread of aids. Blatter says that all will depend on what happens next year when South Africa put on the Confederations Cup. A mere flea bite when compared with the over populated World Cup finals.
And now Lord help us, UEFA mean to do the same misbegotten things with the European finals, come 2016. Every god forsaken Euro country, no doubt hoping to be among the 32 elect, has voted for the idiotic Scottish proposal – Chairman Gordon Smith, the man who never looked back after missing that Cup Final sitter against Manchester United at Wembley – has been in misguided favour. Which means, alas, that more and more mediocre or worse teams will compete in the Euro finals, just as they clutter up the World Cup. Mind you, the Euros were a nice little tournament when only the last four survived to the last Stages. Then it was eight, now sixteen. Gigantism rules and reigns.
*********************
Come to think of it, how absurd to play half the Euro finals in little Switzerland, when not a single stadium even housed as many as 40,000 spectators. Indeed, only the so called Ernst Happel stadium in Vienna took a reasonable 55,000. In 1954, it was all well and good to give Switzerland a World Cup, when there was so much less pressure and interest. Not now. Meanwhile, Michel Platini has threatened Poland and the Ukraine to take away from them the 2012 Finals. Why ever were they chosen in the first place?
*********************
One reads, a euphemism, that poor Kenwyn Jones, incisive striker for Trinidad and Sunderland, will miss most of the coming season owing to knee ligaments injured when playing for Trinidad against England in Port of Spain. Injured because David "Calamity" James, the England goalkeeper, this time bringing calamity into the ranks of the opposition, raced wildly, needlessly and irresponsibly out of his area, pursuing a ball which Rio Ferdinand quite clearly had covered, thus crashing into the hapless Jones, who, seriously injured, was obliged to leave the field. No free kick was given. Nor does one remotely suggest that there was any ill intent in James' foray. But the fact remains that Sunderland were deprived of an important player, Jones himself has to suffer on the sidelines, while his club became obliged to spend heavily on a replacement. A calamity indeed.
*********************
David Dein, pitched out of the Arsenal hierarchy, has been sounding grim warnings of what could happen to his beloved club if it continues to keep out the biollionaire oligarch, Alisher Usmanov. Whose shareholding now is almost at the level of the Gunners' largest holder, Danny Fiszman, who, like other shareholders of magnitude pledged not to sell his shares for at least a year. But, since he is now domiciled abroad, he might always in the future chance his mind.
Plainly Dein has no financial ambitions in this context. When in August 2007 he sold his 14.58% of shares to Usmanov, he picked up the bagatelle of £75 million. Which dwarfs his original, highly profitable, deal when, in 1982, he paid £290,252 for 1161 unissued shares which amounted to 16% of the total and gained him a seat on the board of directors. Peter Hill Wood, the Chairman, whose family had famously and impressively run or helped to run the club since the 1920s, welcomed Dein's interest in the Gunners but said he was "crazy" to buy these "dead" shares. When, a few years later, new dispositions brought these shares to life, Dein was suddenly a rich and major player.
The vertiginous ups and downs of his previous commodities business a thing of the past. Dein it was who, to his huge credit, brought Arsene Wenger to Highbury. But in April 2007 he and the board fell out, and out he went to his dismay.
Having sold those shares, Peter Hill Wood, despite the family tradition, was no longer a major player, though he frequently and forcefully had things to say. Such as his declaration that Arsenal wanted nothing to do with the likes of a rich American investor. Whom, some months later, he flew to the USA to meet. And who is now being courted by Arsenal to join the board. Usmanov hardly cuts a beguiling figure, what oligarch does, but in a world where the likes of Thaksin Shinawatra, with his parlous record in Thailand, can take over Manchester City and remain there, what real objection could be made? Especially if Usmanov brings with him Dein, whose passion for the Gunners remains unabated.