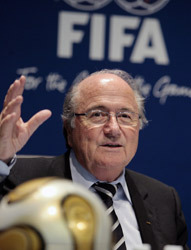 World Soccer: What is the most important issue facing FIFA?
Social responsibility. Throughout the world, football has become such an important phenomenon that we need to demonstrate our sense of responsibility towards society at large. That starts with players and includes clubs, leagues, referees, national associations and continental confederations, who work on behalf of football and on behalf of the important role it plays now in the world.
What about the role of the World Cup in all of this?
You can see that the World Cup in Germany last year left a great legacy, and not only in financial terms – it showed that football can be a source of positive energy radiating throughout the world. We want to keep it that way.
Doubts have been raised about South Africa's capability to host the World Cup in 2010. What do you think?
Barring a natural disaster, South Africa will be staging the World Cup in 2010. The only back-up plan we have is South Africa, and the back-up plan to the back-up plan is South Africa. Should we have that natural disaster, however, then there are various options open to us. The easiest would be to go back to Germany, but there are a number of other countries ready to step up and organise a World Cup at short notice, in Europe, Asia and North America – meaning the United States to be precise.
As far as work in South Africa proceeding, the local organising committee is working well and we have appointed the chief executive of the 2006 World Cup, Horst R Schmidt, to work there for us in charge of a FIFA team of 10 to 12 people, so we all work hand in hand with the South Africans.
What is the situation regarding the 2014 finals?
The 2014 finals were designated by the rotation system to go to South America and now we have only one candidate, Brazil. But, make no mistake: just because we have only one candidate, it does not mean that the high standard of requirements will be changed. Brazil will have to provide all the essential guarantees every country has to provide. The formal decision will be taken by the FIFA executive committee meeting in Doha in November.
Various countries are already considering bids to host the 2018 World Cup. Which continent will that go to?
Once we have decided on 2014 we will tackle the World Cup after that and decide whether to maintain the rotation system or alter it. Obviously, what we decide about 2014 may limit our actions concerning 2018.
What are the other key issues at the moment?
An issue of utmost importance for me is that we continue training our referees. We have invested $14million [£7m] in referee training programmes over the next four years. The pressure on referees is increasing all the time, and we need to make sure that they are up to standard. We are on the same track here as UEFA, which is interested in seeing if it can help with a system of four assistant referees instead of three. We have tested the system here in Zurich to see if this is something which, in the future, can help the referee exercise better match control.
What about violence in football?
First of all, this is a reflection of the violence in society at large. Football is sometimes in danger of being taken hostage by this violence. However, we are also aware of our responsibilities and we have to do all we can to ensure safety and security even if, above all, this is a responsibility of government. But there are lessons we can learn about the safety and comfort of stadia. In the United Kingdom, which used to be the home of hooliganism, they showed that the use of all-seater stadia means you can reduce hooligan violence to almost nothing. So in this way we can show that football knows it can live up to its responsibility, as does society at large.
But, you know, this is not only an issue of fans. This year's English League Cup Final, at the Millennium stadium in Cardiff, ended in a brawl on the pitch between the players; also the Champions League game between Valencia and Internazionale. I am unable to understand, or grasp, what is happening when the players themselves try to pour petrol on the flames – and sometimes coaches, too.
How do you judge the state of the fight against racism?
It is unfortunate that we are still discussing this phenomenon in 2007. Football should always be something which unites all people. But we fall victim to trends in our own societies, and it worries and hurts me. We are only now starting to react strongly enough. I was pleased to see that Spain is at last tackling the problem there. Financial fines are not sufficient punishments. Suspensions, points deductions and exclusions are the only solutions. National associations need courage to take such decisions but they will produce results. The new FIFA disciplinary code means we have not only the right but also the obligation to intervene if we think a punishment is not sufficient.
What about doping in football?
This is always a difficult issue. The International Olympic Committee recently appointed me as one of its four representatives on the World Anti-Doping Agency. Politics is putting sport under a lot of pressure over doping, and we are responding to that and for our own reasons. For example, we want to have the Puerto case in Spain reopened [in March, the Spanish authorities dropped their Operacion Puerto investigation into the alleged doping of cyclists and, reportedly, other athletes]. We know that cycling is a part of this investigation, but we want to know who else is involved. We want the case to be reopened even if there is the risk that it could concern football players. We have been told that this may, in fact, not be the case but, if so, then we have asked that we have it confirmed in writing.
When you became president, FIFA had a deficit of 15million Swiss francs [£6.1m]; now it is 752m Swiss francs [£307.1m] in credit. Why does FIFA need so much in the bank?
Five years ago many people criticised FIFA for bad financial behaviour and now we are criticised for having too much money. But we have to have enough reserves to protect us just in case something goes wrong – for example, with a World Cup. Also, people often overlook the fact that we distribute 70 per cent of our revenues to the national associations through our various assistance programmes.
How did you view UEFA's decision to award Euro 2012 to Poland and Ukraine instead of Italy, who had been favourites?
It's not up to me to comment on a decision like that, though I must say I noted that the decision was taken by the UEFA executive, only 12 people – a heavy responsibility for such a small number.
At least when FIFA decides on a World Cup host there are 23 of us. I am also happy, incidentally, that we have more and more former great players involved in our administrative work – Michel Platini as president of UEFA, and now Franz Beckenbauer is a member of the FIFA executive. Also at FIFA we have Angel Maria Villar of Spain who was an international player in his day.
Do you think that, in Europe, you will eventually succeed in imposing a rule by which clubs must field at least six home-grown players and a maximum of five foreign players?
People say this all came from the Bosman decision, but that decision, in 1995, concerned only the free movement of players at the end of a contract. In the European Union, people can move across borders with the same working rights, but footballers are not like painters or decorators. This was recognised in the European Union's Nice Declaration of 1999, which said that the specificity of sport should be recognised. Unfortunately, however, this has never passed into law. We are working towards this now with the European Commission after the recent inter-governmental inquiry into the governance of European football.
I hope that eventually we will get six-and-five through. But people should appreciate this is a problem only in Europe. We were very encouraged at the last two Club World Championships – in 2005 Sao Paulo won with a team of 10 Brazilians and one Uruguayan; in 2006 Internacional beat Barcelona with 11 Brazilians, not one of whom was in the Brazilian national team. That should have made a positive impression in Europe, where local players are developed in youth squads but blocked from the first team by too many foreign players. Think how those clubs could save money.
You were the only candidate for the presidency at congress in Zurich. How did you feel about that?
It was the first time I had been the only candidate, which shows that people felt confidence in what I have done over the previous nine years. When I was elected first in Paris in 1998 I said I thought a president should stay in office for only two terms – which was true, it was what I thought then. But what happened was that a lot of extra work was then necessary partly because of the number of obstacles and spanners which were thrown into the works.
In 2002, in Seoul, a large number of delegates at congress expressed their support for me, and so we went on together. Football has changed enormously over the last nine years, and it seems the national associations decided it was important to keep the same president at the helm for another four years.
How has football changed during your term as president, and how have you changed?
Football has changed immensely in becoming an economic power, though this has a downside because in many leagues too many teams have as their ambition not winning titles but merely avoiding relegation. What has not changed enough is that there is still too much amateurism in football administration. How have I changed? That is really up to other people to say but I don't think I have changed much. When I played football I was a No 9, an attacker, and sometimes I was seen more in a game and sometimes less. I think it's still the same.
Interview by Keir Radnedge