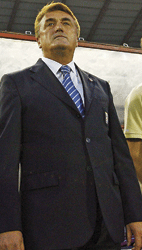 World Soccer: What would be a good result for Serbia in South Africa this summer?
Radomir Antic: First of all, I consider that we can be happy and privileged simply by the fact that we will take part at the World Cup finals, especially as it is Serbia's first. As for what we can achieve there, I am not someone who makes promises and puts additional pressure on players.
In the past there have been problems in the build-up, or at the tournament, mostly due to internal problems. What will you do to avoid such a scenario this time?
I don't like comparisons and the past doesn't interest me. Our FA, me, my coaching staff and the players, already did everything that was necessary in order to keep a good atmosphere in our team. We have sorted out all details, including the issue of bonuses. I think that we have been together for quite long enough. Of course, I know what a World Cup means; that there are always interests around the national team.
What are the team's main strong points?
I have always said that our characteristic virtues must determine our style of play. It has to be in accordance with our mentality. The ball is our obsession; we are a team that likes to attack. I will never go into a game in a negative frame of mind. I think that we have a good balance between defence and attack and our organisation at set-pieces is one of the best in Europe.
Are you concerned that some of your starters, such as Stojkovic, Milijas and Zigic, are substitutes at their clubs?
Not at all. I know the situation, I know that they are working hard. Their attitude is not in doubt and I believe that every one of the players will be at the expected and required level.
You played attacking football with a 4-4-2 formation, with two strikers and two wingers. But in the home game against France, when Pantelic was suspended, you opted for one forward. Why?
I consider that Kacar has got outstanding characteristics when we are attacking, therefore I fielded him, and he was practically our second striker in that game. It was bad luck that he got injured, so I had to look for another solution. I think that in that game we started playing actively and offensively; we didn't calculate. But the result [Serbia took an early 1-0 lead before drawing] and the situation in the table forced France to play with more risk, and so it happened that they took the initiative. Our players probably felt some satisfaction with a draw but it was not our choice to play defensively.
Are you happy with the make-up of the group?
We mustn't forget that this is the only one with teams who qualified directly as group winners, so that is a fact you have to respect. Ghana proved their quality by reaching the Final of the African Nations Cup, Australia are a team in progress, while Germany
are always strong at major tournaments, a lot of which is due to their mentality.
It's a strange kick-off time for the Germany game (12.30pm BST)?
Yes, but things on which I cannot have an influence I must accept as reality.
The World Cup winners?
Spain have every right to be favourites. Del Bosque won 22 out of 23 games, including matches against England and France. They won all their World Cup qualifiers. They picked a style of play which is most suitable for them, and the interpretation of that style is indeed impressive.
Which team could be the biggest surprise?
We saw at the last Confederations Cup that USA beat Spain and had a 2-0 lead against Brazil, but eventually lost 3-2. South Korea have the quality and I was impressed by Chile in the South American qualifiers.