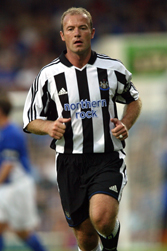 Newcastle boss Graeme Souness has revealed he will try to persuade Alan Shearer continue playing beyond the end of the current season.
Souness was speaking at his official unveiling as the new manager at Newcastle and he insisted one of his main priorities will be to try and make the former England captain change his mind about retiring.
"If Alan Shearer scores 20 goals this season, then I'll be plaguing him not to retire," the Scot stated.
"If he scores 15 goals, then I'll be doing the same, or even a dozen, because strikers like that are priceless to managers and no manager worth his salt wouldn't try to persuade him to keep playing."
Souness later revised his figure to 12. "I'm lowering the bar," he added.
"We're all entitled to change our minds. Let's see what happens."
"Alan didn't change his mind over his decision to retire from England, but we're all entitled to change our minds."
Souness also claimed he would give Kieron Dyer a chance to prove his worth after the England midfielder angered fans by refusing to play wide on the right on the opening match of the season against Middlesbrough.
"I will sit down with Kieron Dyer and tell him that the slate is completely clean," he continued.
"Who at 23 or 24 years old doesn't make mistakes? Who at 23 or 24 years old doesn't need educating? Who at that age doesn't need an arm putting round them from time to time?
"Kieron has learnt something in the past few weeks and I'm sure he will do things differently now.
"It's only a problem if you keep making the same mistakes – then you're an idiot."