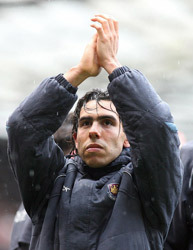 Help us with a Sport and Betting Survey and win a £50 Free Bet! Click here to take part now.
Sheffield United will seek support from Premier League clubs in the legal action against West Ham over the Carlos Tevez and Javier Mascherano affair.
The Yorkshire club were relegated after losing to Wigan and two unnamed clubs have joined five others to begin legal proceedings against the decision not to dock points from West Ham.
Wigan, Fulham, Charlton, Middlesbrough and the United are unhappy that West Ham were fined £5..5m rather than docked points after being found guilty of acting improperly and withholding documentation over the ownership of Tevez and Mascherano, who has since moved to Liverpool.
Sheffield United chairman Kevin McCabe told Radio Four's Today programme: "Most of the clubs support the injustice that has come about this season, I would hope we would get the backing of most.
"I feel cheated because yesterday's result was not the root cause of our relegation.
"It will need conversations with chairmen and directors so they understand all of the injustices, so I suspect we will be canvassing.
"If I were on the Premier League board, I would say 'we must address Sheffield United's plight that has come about through no cause of their own'.
"So they need to call their own internal meetings and decide what to do. It is their responsibility to pursue it just as much as it is ours."
The seven clubs will meet to decide whether to press ahead with a legal challenge and Wigan chairman Whelan says they must act quickly.
"Legally, we are being given strong advice that this can be challenged, whatever the Premier League says," stated Whelan.
"It can go as far as the House of Lords but the problem there is that it will take too long, next season will be under way by then.
"We must establish whether Tevez was registered in time to play for West Ham and whether they created a new transfer window to sign him.
"But the challenge has to be mounted very, very quickly. Monday and Tuesday are very important days and it has got to be pushed through.
"I feel sadness that Sheffield United went down and we will support them until the end."
Wigan chief executive Brenda Spencer said all the clubs wanted was evidence from the Premier League that Tevez's signing was above board.
"We just want the Premiership to prove to us that everything was OK with Tevez, and if they can prove that then that's a different matter," Spencer told BBC Radio Five Live.
"We're not convinced and neither are the other clubs, that we have seen any proof whatsoever.
"We're just asking the question, prove it to us then we will be satisfied.
"We want to know that the Premier League have seen the proof, and that it isn't just West Ham telling them they have proof."
Help us with a Sport and Betting Survey and win a £50 Free Bet! Click here to take part now.