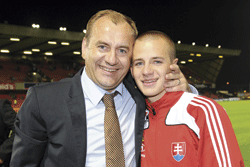 World Soccer: This is Slovakia's first appearance in the World Cup finals. What does it mean to you and the country at large?
Vladimir Weiss: I'm so proud we managed to qualify on my watch. It's an achievement I'll feel good about forever. Not that the success all belongs to me. I share the plaudits with the players, my national team assistants and my family. For our young nation and for our football, this is a very important moment. World Cup qualification and all the excitement it generates will help make the game more popular in Slovakia. We've a chance to come out of the shadows of ice hockey, the No1 sport in the land. The nation is growing up and it's nice the people believe in us.
Is your place in Slovak football history secure?
I don't know about that. But the way things have turned out is uncanny. Fifteen or so years ago I scored Slovakia's first goal after independence. Now I'm taking the team to a World Cup. Unbelievable.
What aspect of the qualifying campaign pleased you the most?
Apart from the defeat at home to Slovenia, when we lost our way a little, there was next to no fluctuation in our performance levels. We were solidly consistent. Questions were continually asked of the boys, but they always had the answers.
Do you find the squad easy to handle?
Yes because everyone is on the same page. Each and every player leaves his ego at the door and puts the team first. When this happens, you have a great chance.
To what do you attribute this Slovak renaissance?
I'm lucky to be able to call on a talented generation of players. They play in all the leading European leagues and inevitably this has sharpened up their game. I must also must pay tribute to my predecessor, Dr Jozef Venglos, who laid the foundations with his work and ideas on youth development.
Usually your Czech neighbours are at a big tournament while you watch on TV. This time the tables have been reversed…
I don't derive any pleasure from Czech non-participation. I'm only interested in our results and performances. All the same, it was important to take four points off the Czechs in qualification. It was high time we laid a few ghosts to rest, put paid to a long- standing inferiority complex.
You were in the Czech squad which reached the quarter-finals of Italia 90. Could Slovakia do the same in South Africa?
Let's not get ahead of ourselves. Our aim is to survive the first round. It would be a mistake to project beyond the group stage. All our concentration and energies have to be on Italy, Paraguay and New Zealand. All I will say is the draw could have been much worse.
How would you assess the group?
Italy are a real tournament team: pragmatic, clever and with a killer instinct. It's strange. They are the world champions, yet virtually no one is talking about them successfully defending their title. When Italy are underestimated, I say "beware". I've no doubt that Paraguay will give us a hard game. They led the South American qualifiers for a long time and are mean in defence. Our first game against New Zealand will be crucial. Three points will set us up very well indeed. The New Zealanders have a direct, British-style of play and don't do fear.
Is Marek Hamsik your most important player?
I need 23 important players. But Hamsik clearly has a special role as captain and a focal point in the attacking-third. He can create, score and lead from the front.
Did you expect a backlash picking your son Vladimir for the first time?
Oh, I certainly expected some to say he was receiving preferential treatment, but it's not an issue now. It was soon obvious to everyone that he was in on merit.