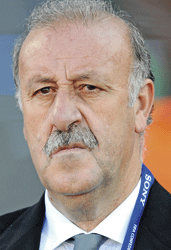 World Soccer: Are Spain favourites for the World Cup?
Vicente del Bosque: Being favourites is a terrible trap. Spain are definitely amongst the group of countries that can be considered favourites but the risk is creating a dichotomy in which you either win the World Cup or you're a failure. It should not be seen as an obligation for us to win the tournament. The Confederations Cup is a good example: we were favourites there and one bad game saw us get knocked out. There are so many variables, so many factors that can influence the eventual outcome – some of which are out of your control. At the European basketball championships, Spain lost two or three games and still won the competition. At the football World Cup, lose one and you're out.
Is there a chance of over-confidence being a problem?
No, I don't think so. The good thing is that I think we have a very down to earth, humble group of players who are able to resist the pressure and not allow themselves to be carried away. They have to have what I call a marathon approach to motivation – consistent, unwavering. A game against Macedonia has to be the same as one against, say, England.
It's a long season in Spain and in England. Do you fear players arriving tired?
Not especially. In the past, players were much more selective over their games; these days, footballers are used to maintaining a rhythm of competition and a consistency of performance. Players are used to a packed fixture list and have better stamina and resistance.
Will you play 4-4-2? 4-2-3-1? Will there be two up front or just one?
We have two basic models but the approach is much the same. We're talking about the same essential models as were used at the European Championships – we haven't altered things much. It's good for a coach to have deep tactical convictions but you also have to have flexibility. I have made changes, but softly. Our models are reflection of what is done at club level too – Barcelona, Madrid, Valencia, Villarreal and Liverpool are the five clubs that basically provide the basis of the Spanish national team and the way they work serves as a model for us. The way we play has to make sense to the players we have, it has to fit with what they are used to at club level as well as for their country.
It looks like Villa and Torres up front. When one of those is missing you tend to play five in midfield. Is that partly a comment on the other strikers?
No. It shows the variety we have. It is true that Guiza has Torres and Villa ahead of him but he is playing very well and always performs for Spain. Negredo is strong in the air, and good with the ball at his feet. Like Llorente, he's the typical striker that can be very useful to us. Silva and Mata can be considered attackers too, depending on how we set up – they're both very offensive players, virtually strikers.
Spain have a very young squad…
Yes, and I think that means that we can grow further. They are very keen to learn and keep improving. It gives freshness too. We have added a few newer players. Spain's youth development has been superb over the last fifteen years and there have been lots of options for us. I have tried not to change munch but you see the impact that players like Pique, Busquets and Mata have had and I think they have improved us. It's not a good thing to be stuck in the past or to keep things as they are just for the sake of it. We have freshened things up a bit.
As an international coach, what do you make of plans to bring in quotas? Would a 6+5 rule help you?
Yes, but I know that it is not easy. UEFA and FIFA have to look at this but it is hard. The way football has gone is not good or bad, it's a reality – simple as that. Borders have come down. But broadly speaking I would like to protect football. I still think there is room for a little romanticism in football, even though this is a media and marketing world now too. There are some cases: look at the success of Villarreal in a town of only 50,000 or Deportivo who reached a Champions league semi-final. I would hate to think that we would lose tradition from the game. That's one of the things I admire about English football – the way they protect their traditions.
Open borders must have helped Spain too, though.
Yes. Spanish players getting a chance at Liverpool has been beneficial. The fact that Cesc is captain of Arsenal at the age of 22 has been very good for us. There has been a sense of English football 'robbing' our players but that is not a bad thing for the national team. The fact that we have had players in the Premier League has benefited them – those players have developed better and they have got a broader sense of football now.
Spanish coaches are making a comeback.
I'm very pleased about that. And even the foreign coaches in Spain are 'Spaniards' in that they have played here or been 'educated', football-wise, here – like Mauricio Pochettino. Then there's Manuel Pellegrini who has been here a long time. I am very pleased about the success that Pep Guardiola has had. And of course there are Spaniards coaching aboard now. I think we are developing very good managers now.
Real Madrid and Barcelona dominated the league. Do you see that as problem?
Well, it happens in every country. In Portugal it's Sporting, Benfica, Porto, in England Manchester United, Chelsea and Arsenal, in Italy there are three or four … Spain is not an exception. I would love there to be more clubs involved but it is an economic reality in the end.
Has football changed too much?
It has changed a lot but the essence remains the same. The joy, the hope, the emotion – that's still there. Things have changed, life changes. Some things remain.